INTERESTED?
This is how life should be
INTRODUCTION
Step into a life of wellness
Wake up to refreshing cool air from the adjacent 2,700-acre forest reserve.
CITY OF ELMINA achievements
Located in Shah Alam, Selangor, the City of Elmina is a 5,000-acre integrated township along the rapidly growing Guthrie Corridor. With an award-winning masterplan that embodies 8 elements of wellness, discover a balanced lifestyle amidst natural surroundings without compromising convenience and connectivity.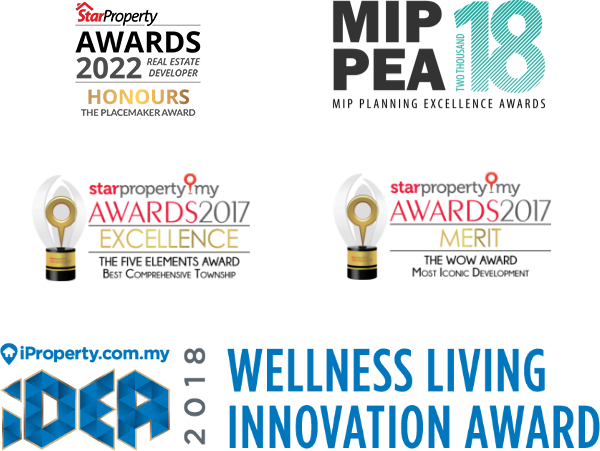 AROUND CITY OF ELMINA
Great access to all of your needs
within the City of Elmina
CITY OF ELMINA achievements
Why City of Elmina?
An ideal location for a
balanced lifestyle
The perfect location that distinguishes the importance of a balanced lifestyle. Raising the quality of life with natural gardens and parks, alongside open social spaces to keep you and your loved ones consistently active.
Kilometres of scenic
cycling & running tracks
Keep a healthy outlook while enjoying the scenery around the community's beautiful and tranquil environment. Stay fit with a jogging circuit long enough to run a marathon in, and cycling tracks that offer urban roads and rough terrain.
Health-centric
multigenerational community
Kick start a well-balanced lifestyle with our health-based environment. Providing you with our strategic placement of the biggest town-park in Klang, equipped with fitness friendly installations.
Other townships you may like