Sime Darby Property appoints experienced leaders in its Senior Management team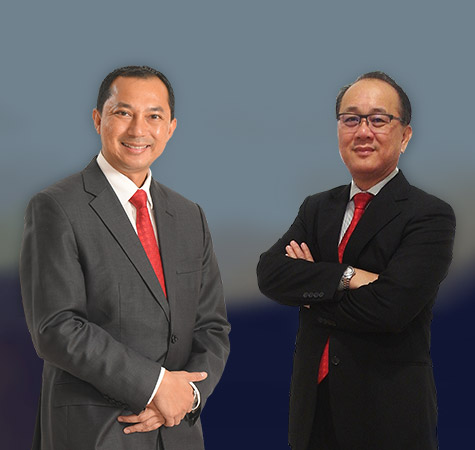 Strengthening the leadership team for future growth
ARA DAMANSARA, 23 January 2018 – Sime Darby Property Berhad has announced the appointment of new key management members, reinforcing the company's position as a leading property developer in Malaysia.

Quek Cham Hong assumes the position of Chief Operating Officer, Integrated; focusing on high rise and integrated development projects with effect from 16th January 2018. He has extensive knowledge of the property industry under his belt, with over 30 years of experience in the business.
Quek will lead the operations of Sime Darby Property's integrated and niche development projects at Alya Kuala Lumpur, KL East, Subang Jaya City Centre (SJCC), Putra Heights and Ara Damansara, as well as the management of joint-venture companies for integrated projects.
Quek was previously the Executive Director of Southkey Properties Sdn Bhd where he was involved in a 330-acre flagship integrated mixed development in Johor Bahru city. He also held leadership position as the Executive Director of Tropicana Corporation Berhad. Throughout his career, Quek has been involved in various aspects of the property business that include business and corporate development, finance, marketing, sales, project management, shopping mall management, golf club and resort management and property management.
He holds a Bachelor of Science (Honours) in Housing, Building & Planning with a major in Project Management and Building Economics from the University of Science Malaysia and was the recipient of the Institution of Engineers Malaysia (Northern Branch) Gold Medal Award for outstanding academic performance in 1986.
Another key appointment is Mohammad Fairuz Mohd Radi, who assumes the role of Chief Transformation Officer and Head of Group Managing Director's Office, effective from 1st December 2017. Fairuz Radi will lead the Transformation Office, Strategy Department and Group Managing Director's Office in Sime Darby Property. His accountability includes strengthening the company's corporate and business strategies while planning and executing transformation initiatives including driving strategic and tactical action plans.
Fairuz Radi was part of the pioneer team driving Maybank Leap30 Transformation back in late 2008. Specifically, for Maybank Global Banking, he was instrumental in the visioning, strategic planning and transformation initiatives execution to enable the setup of 'global wholesale banking' in 2010. He was previously Maybank's Head of Strategy for Wholesale Banking (Corporate and Investment Banking) and for Community Financial Services (Retail and Private Wealth).
Fairuz has more than 13 years of experience in Corporate Transformation and Business Strategy leading large and complex transformation projects for Government-linked Companies (GLC), Conglomerates and Large Corporate gained during his tenure with Accenture, a global consulting firm, gaining sound consulting and advisory experience.
He holds a Bachelor of Science (BSc) in Electrical Engineering from Pennsylvania State University and a Master of Science (MSc) in Technologies for Broadband Communication from University College London.
Sime Darby Property's Group Managing Director, Amrin Awaluddin said, "We welcome Quek and Fairuz to the Sime Darby Property family. Their combined experience, expertise and knowledge will help reinforce our position as a leading property developer in Malaysia. They bring new skills and fresh perspectives to Sime Darby Property which are valuable to our growth and transformation strategy."
Sime Darby Property lantik pemimpin berpengalaman bagi memantapkan Pengurusan Kanan syarikat

Pengukuhan barisan kepimpinan untuk kecemerlangan masa hadapan
ARA DAMANSARA, 23 Januari 2018 – Sime Darby Property Berhad mengumumkan pelantikan ahli pengurusan kanan baharu, bagi mengukuhkan kedudukan syarikat tersebut sebagai pemaju hartanah terkemuka di Malaysia.

Quek Cham Hong dilantik sebagai Ketua Pegawai Operasi Pembangunan Bersepadu berkuatkuasa mulai 16 Januari 2018, memberi tumpuan terhadap projek pembangunan bangunan tinggi dan bersepadu. Beliau mempunyai pengetahuan meluas tentang industri hartanah dengan pengalaman lebih daripada 30 tahun.
Quek akan mengetuai projek-projek pembangunan bersepadu dan niche milik Sime Darby Property di Alya Kuala Lumpur, KL East, Pusat Bandar Subang Jaya (SJCC), Putra Heights dan Ara Damansara, serta pengurusan projek bersepadu melalui syarikat usaha sama.
Quek merupakan mantan Pengarah Eksekutif Southkey Properties Sdn Bhd, di mana beliau terlibat dalam pembangunan bercampur bersepadu seluas 330 ekar di Johor Bahru. Beliau juga pernah memegang jawatan sebagai Pengarah Eksekutif Tropicana Corporation Berhad. Sepanjang kerjayanya, Quek telah terlibat dalam pelbagai aspek perniagaan hartanah yang meliputi pembangunan perniagaan dan korporat, kewangan, pemasaran, penjualan, pengurusan projek, pengurusan pusat membeli-belah, pengurusan kelab golf dan resort dan pengurusan hartanah.
Beliau adalah pemegang Ijazah Sarjana Muda Sains (Kepujian) dalam Perumahan, Bangunan & Perancangan dengan jurusan Pengurusan Projek dan Ekonomi Pemangunan daripada Universiti Sains Malaysia dan merupakan penerima Anugerah Pingat Emas Institut Jurutera Malaysia (Cawangan Utara) bagi kecemerlangan akademik pada tahun 1986.
Mohammad Fairuz Mohd Radi pula dilantik sebagai Ketua Pegawai Transformasi dan Ketua Pengarah Urusan Kumpulan, berkuatkuasa mulai 1 Disember 2017. Fairuz Radi akan mengetuai Pejabat Transformasi, Jabatan Strategi dan Pejabat Pengarah Urusan Kumpulan di Sime Darby Property . Tanggungjawab beliau termasuk pengukuhan strategi korporat dan perniagaan syarikat ketika merencanakan dan melaksanakan inisiatif transformasi termasuk memacu pelan tindakan strategik dan taktikal.
Fairuz Radi adalah sebahagian daripada pasukan perintis yang memacu Transformasi Leap30 Maybank pada akhir tahun 2008. Khususnya, untuk Perbankan Global Maybank, beliau berperanan penting dalam pelaksanaan inisiatif, perancangan strategik dan inisiatif transformasi bagi membolehkan persediaan 'perbankan borong global' pada tahun 2010. Beliau pernah memegang jawatan Ketua Strategi Maybank Perbankan Borong (Perbankan Korporat dan Pelaburan) dan Perkhidmatan Kewangan Komuniti.
Fairuz mempunyai lebih daripada 13 tahun pengalaman dalam Transformasi Korporat dan Strategi Perniagaan melalui penglibatan beliau dalam projek transformasi utama dan kompleks bagi Syarikat Berkaitan Kerajaan (GLC), Konglomerat dan Korporat semasa bersama Accenture, sebuah firma perundingan global.
Beliau memiliki Ijazah Sarjana Muda Sains (BSc) dalam Kejuruteraan Elektrikal daripada Universiti Pennsylvania State dan Ijazah Sarjana Sains (MSc) dalam Teknologi Komunikasi Jalur Lebar dari University College London.
Pengarah Urusan Kumpulan Sime Darby Property, Amrin Awaluddin berkata, "Kami mengalu-alukan Quek dan Fairuz dalam keluarga Sime Darby Property. Pengalaman, kepakaran dan pengetahuan mereka akan membantu memperkukuhkan kedudukan kami sebagai pemaju hartanah terkemuka di Malaysia. Mereka membawa kemahiran yang bernilai dan perspektif baharu kepada Sime Darby Property, yang amat berharga bagi strategi pertumbuhan dan transformasi perniagaan kami."
About Sime Darby Property Berhad
On the back of a successful 45-year track record of developing sustainable communities, Sime Darby Property has to date built 23 active townships/developments with a global reach that encompasses assets and operations across the Asia Pacific region and the United Kingdom. In the UK, as part of a Malaysian consortium, Sime Darby Property is the developer of the iconic Battersea Power Station project in central London.
Sime Darby Property is a multiple award-winning property group with numerous local and international accolades. It is the first Malaysian property developer to be awarded the International FIABCI Prix d'Excellence Awards twice for its Subang Jaya and UEP Subang Jaya townships. The company bagged its 7th consecutive Gold at the Putra Brand Awards 2016 and its 5th consecutive Top 10 Developers Awards at the BCI Asia 2015. Sime Darby Property has also been recognised as among the top developers in Malaysia in the annual The Edge Top Property Developers Awards, a recognition which the company consistently receives since 2009.
For more information, log on to www.simedarbyproperty.com
MEDIA CONTACT:
Ahmad Shahriman Johari
Head, Corporate Communications
Sime Darby Property Berhad
E-mail: shahriman.johari@simedarby.com
Mobile: 019 – 333 8320