Sime Darby Property's Rimbun Sanctuary redefines living experience in Greater Kuala Lumpur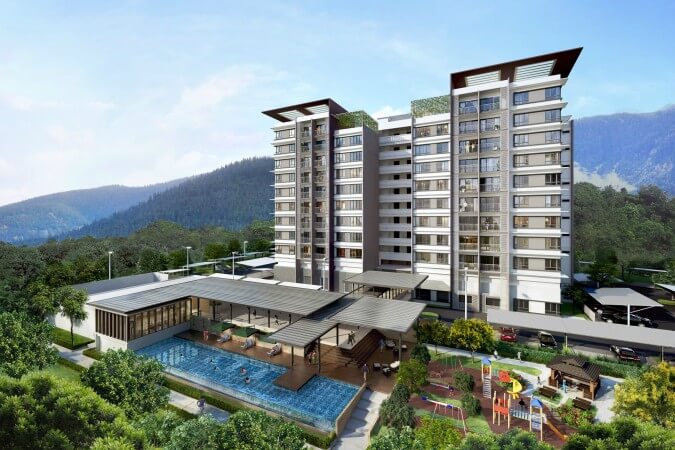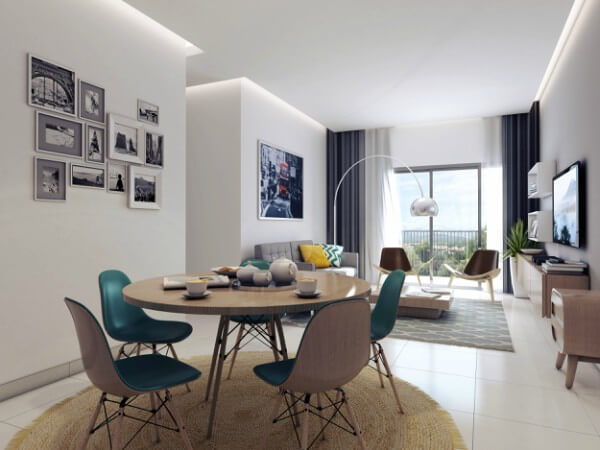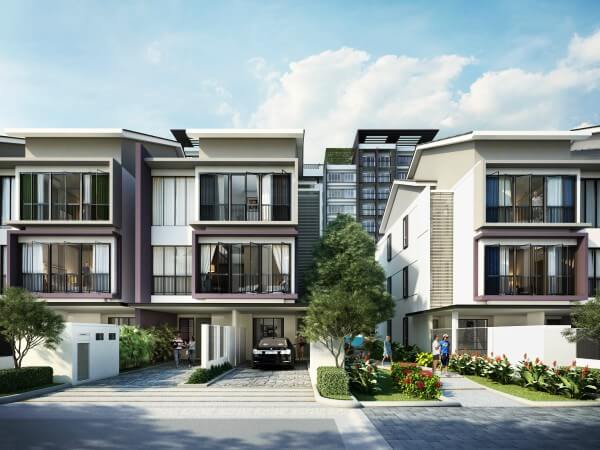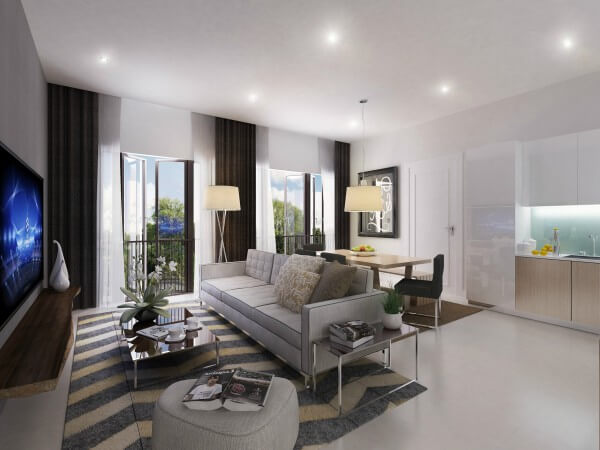 BUKIT JELUTONG, 24 January 2018 – Rimbun Sanctuary, Sime Darby Property's first development of boutique apartments and townhouses in the award-winning Bukit Jelutong Township will see its soft launch happening on 28 January 2018 (Sunday).
The development comprises 68 units of apartments with a built up area from to 907 – 1,091 sq ft (with dedicated units for disabled residents on the Ground Floor) and 40 units of townhouses with a built up area from 1,511 – 2,151 sq ft, making it an exclusive low-density development. Offering freehold ownership, prices for the Rimbun Sanctuary Apartments start from RM677,888 before Bumiputera discount.
The 5.42-acre Rimbun Sanctuary caters to first-time home owners – singles and young families – as well as retirees or couples who want smaller, more exclusive and private spaces with the convenience of 24-hour surveillance and amenities. The development also offers a private clubhouse and facilities such as a jogging track, playground, infinity pool and gym, as well as a BBQ area for its residents.
Rimbun Sanctuary sits next to a forest reserve and is enhanced by 3-tier security features. It is a modern-day sanctuary located away from the township's mainstream activities.
The official launch for Rimbun Sanctuary in Bukit Jelutong will take place in early March 2018.
Sime Darby Property General Manager, Appollo Leong said, "We are proud to showcase Rimbun Sanctuary – a modern-day low-density sanctuary located away from the hustle and bustle of city life, where residents can experience and appreciate the vast amount of green spaces provided. Our Bukit Jelutong Township was envisioned as a township resplendent with parks, gardens and green open spaces for residents to enjoy, and Rimbun Sanctuary fits perfectly with the overall concept of this self-contained township."
"Our focus to develop sustainable townships with vibrant communities for future generations is evident through matured townships such as Bukit Jelutong."
Today, it is one of the most sought-after addresses in Greater Kuala Lumpur, spread over 2,200 acres of prime freehold land. Bukit Jelutong is a township that has formed close knit neighbourhoods, with amenities and public spaces that are accessible and inviting. The result is a low density township surrounded by lush greeneries and wider streets which reduces congestion, preserving the peace and harmony of its community. This promotes interaction among the residents of Bukit Jelutong and has resulted in an active Bukit Jelutong Resident's Association.
Bukit Jelutong is strategically located between popular suburbs within the Klang Valley such as Subang Jaya and Shah Alam, and is well-served by an excellent road network. It is easily accessible via the New Klang Valley Expressway (NKVE), the Guthrie Corridor Expressway (GCE), the Federal Highway and the North–South Expressway Central Link (ELITE).
Updates on Sime Darby Property activities and developments can be found on simedarbyproperty.com, Facebook (facebook.com/SimeDarbyProperty), Instagram (instagram.com/SimeDarbyProperty) and the Sime Darby Property Mobile App (available for download via the App Store and Google Play).
Rimbun Sanctuary oleh Sime Darby Property beri definisi baharu kehidupan di Greater Kuala Lumpur
BUKIT JELUTONG, 24 Januari 2018 – Sime Darby Property akan mengadakan pra pelancaran Rimbun Sanctuary pada 28 Januari 2018 (Ahad), sebuah pembangunan kediaman jenis apartment butik dan rumah bandar pertama oleh pemaju tersebut di perbandaran Bukit Jelutong.
Pembangunan itu menawarkan 68 unit apartment berkeluasan 907 – 1,091 kaki persegi (dengan unit khusus untuk penghuni kurang upaya di aras bawah) dan 40 unit rumah bandar berkeluasan 1,511 – 2,151 kaki persegi , menjadikannya pembangunan berkepadatan rendah yang eksklusif. Menawarkan pemilikan bebas, Apartment Rimbun Sanctuary ditawarkan dengan harga bermula dari RM677,888 sebelum diskaun Bumiputera.
Rimbun Sanctuary, sebuah pembangunan seluas 5.42 ekar, menyasarkan pembeli rumah pertama – belum berkahwin dan keluarga kecil - serta pesara atau mereka yang inginkan ruang peribadi yang lebih kecil dan eksklusif, dengan pengawasan 24 jam dan kemudahan yang tersedia. Pembangunan itu juga menawarkan rumah kelab dan kemudahan persendirian seperti trek joging, taman permainan, kolam infiniti dan gim, serta kawasan BBQ untuk para penduduk.
Rimbun Sanctuary terletak bersebelahan rizab hutan dan dipertingkatkan dengan ciri-ciri keselamatan 3 peringkat. Ia adalah sebuah santuari kehidupan moden yang terlindung dari kesibukan bandar.
Pelancaran rasmi Rimbun Sanctuary di Bukit Jelutong akan diadakan pada awal bulan Mac 2018.
Pengurus Besar Sime Darby Property, Appollo Leong berkata, "Kami mempersembahkan Rimbun Sanctuary, santuari kehidupan berkepadatan rendah dan moden yang terletak jauh dari kesibukan bandar, di mana para penduduk dapat menikmati ruang hijau yang luas dan tenang. Bukit Jelutong diaspirasikan sebagai sebuah perbandaran yang diperkayakan dengan taman-taman dan ruang hijau yang terbuka untuk dinikmati penduduk. Rimbun Sanctuary sesuai dengan konsep keseluruhan perbandaran yang serba lengkap ini."
"Tumpuan kami untuk membangunkan perbandaran yang lestari dengan komuniti yang vibran untuk generasi akan datang dapat dilihat dengan jelas melalui perbandaran yang matang seperti Bukit Jelutong."
Bukit Jelutong merupakan lokasi yang amat digemari di Greater Kuala Lumpur, yang merangkumi lebih daripada 2,200 ekar tanah berpegangan bebas. Ia adalah sebuah perbandaran dengan kawasan kejiranan yang harmoni, dengan kemudahan dan ruang awam yang mudah diakses dan menarik. Hasilnya adalah perbandaran berkepadatan rendah yang dikelilingi oleh kawasan hijau dan jalan raya yang lebih luas bagi mengurangkan kesesakan. Kedamaian dan keharmonian yang terjalin di antara penduduk dapat dilihat melalui penubuhan Persatuan Penduduk Bukit Jelutong yang aktif.
Bukit Jelutong terletak di lokasi strategik di antara pinggir bandar popular di Lembah Klang seperti Subang Jaya dan Shah Alam, dan dihubungkan oleh rangkaian jalan raya yang sangat baik. Ia mudah diakses melalui Lebuhraya Baru Lembah Klang (NKVE), Lebuhraya Koridor Guthrie (GCE), Lebuhraya Persekutuan dan Lebuh Raya Utara-Selatan Hubungan Tengah (ELITE).
Perkembangan perihal aktiviti dan pembangunan Sime Darby Property boleh didapati melalui simedarbyproperty.com, Facebook (facebook.com/SimeDarbyProperty), Instagram (instagram.com/SimeDarbyProperty) dan Aplikasi Mudah Alih Sime Darby Property (boleh dimuat turun di App Store dan Google Play).
About Sime Darby Property Berhad
On the back of a successful 45-year track record of developing sustainable communities, Sime Darby Property has to date built 23 active townships/developments with a global reach that encompasses assets and operations across the Asia Pacific region and the United Kingdom. In the UK, as part of a Malaysian consortium, Sime Darby Property is the developer of the iconic Battersea Power Station project in central London.
Sime Darby Property is a multiple award-winning property group with numerous local and international accolades. It is the first Malaysian property developer to be awarded the International FIABCI Prix d'Excellence Awards twice for its Subang Jaya and UEP Subang Jaya townships. The company bagged its 7th consecutive Gold at the Putra Brand Awards 2016 and its 5th consecutive Top 10 Developers Awards at the BCI Asia 2015. Sime Darby Property has also been recognised as among the top developers in Malaysia in the annual The Edge Top Property Developers Awards, a recognition which the company consistently receives since 2009.
For more information, log on to www.simedarbyproperty.com
MEDIA CONTACT:
Ahmad Shahriman Johari
Head, Corporate Communications
Sime Darby Property Berhad
E-mail: shahriman.johari@simedarby.com
Mobile: 019 – 333 8320