Sime Darby Property announces new family benefits for employees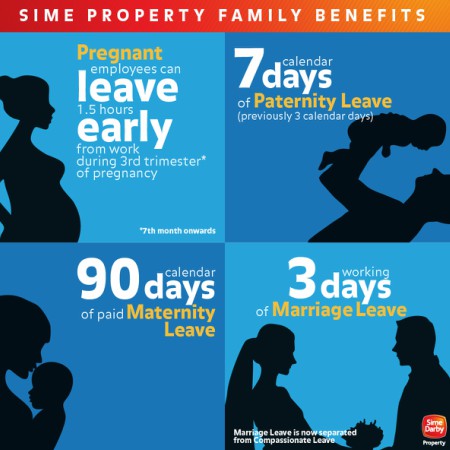 Company's move reflects sensitivity to changing family dynamics and to fulfill the evolving needs of its workforce

ARA DAMANSARA, 26 January 2018 – Sime Darby Property employees are set to enjoy enhanced work benefits with the launch of the company's new family benefit program covering maternity, paternity and marriage support.
Under Sime Darby Property's new family benefit program, expectant mothers will receive 90 calendar days of paid maternity leave. This is an improvement on the company's previous policy of just 60 calendar days of paid maternity leave.
Understanding the challenges and weariness faced by pregnant employees working regular office hours, the company also decided to allow shorter working hours for expecting mothers to leave the workplace 1.5 hours early during the last trimester (7th month) allowing for more rest time and a healthy pregnancy.
Sime Darby Property Group Managing Director Dato' Sri Amrin Awaluddin said, "Sime Darby Property's move to introduce the new family benefit program reflects our understanding of changing family dynamics and the evolving needs of our workforce. We constantly seek to improve our benefits based on feedback from our employees and by being sensitive towards their different needs and preferences."
In addition, the enhanced family benefit program allows new fathers up to 7 calendar days of paternity leave, a significant improvement from the 3 calendar days previously.
Employees who are tying the knot will also be entitled to 3 working days of marriage leave under the new family benefits. Previously, employees are required to apply for compassionate leave to get married. This is now separated as a special leave category.
As a Malaysian company with diverse employees, Sime Darby Property champions an inclusive culture and environment that fosters harmonious and sustainable relationships including a conducive and friendly work environment for its employees.
Sime Darby Property is a winner of the Best Employers Malaysia 2015 award by Aon Hewitt and HR Asia Best Companies to Work for in Asia 2015. The awards validates Sime Darby Property's commitment and ability in developing and maintaining a competent, competitive and sustainable workforce to drive its business forward.
Updates on Sime Darby Property activities and developments can be found on simedarbyproperty.com, Facebook (facebook.com/SimeDarbyProperty), Instagram (instagram.com/SimeDarbyProperty) and the Sime Darby Property Mobile App (available for download via the App Store and Google Play).
About Sime Darby Property Berhad
On the back of a successful 45-year track record of developing sustainable communities, Sime Darby Property has to date built 23 active townships/developments with a global reach that encompasses assets and operations across the Asia Pacific region and the United Kingdom. In the UK, as part of a Malaysian consortium, Sime Darby Property is the developer of the iconic Battersea Power Station project in central London.
Sime Darby Property is a multiple award-winning property group with numerous local and international accolades. It is the first Malaysian property developer to be awarded the International FIABCI Prix d'Excellence Awards twice for its Subang Jaya and UEP Subang Jaya townships. The company bagged its 7th consecutive Gold at the Putra Brand Awards 2016 and its 5th consecutive Top 10 Developers Awards at the BCI Asia 2015. Sime Darby Property has also been recognised as among the top developers in Malaysia in the annual The Edge Top Property Developers Awards, a recognition which the company consistently receives since 2009.
For more information, log on to www.simedarbyproperty.com
MEDIA CONTACT:
Ahmad Shahriman Johari
Head, Corporate Communications
Sime Darby Property Berhad
E-mail: shahriman.johari@simedarby.com
Mobile: 019 – 333 8320