Integrated Annual Report
Stay Up To Date On Sime Darby Property's
Insights With Our Library Of Key Documents
Sime Darby Property's Integrated Report 2022 has been prepared in accordance with the principles prescribed by the International Integrated Reporting Council. It provides a balanced and accurate narrative about the Group's financial and non-financial performance, as well as prospects based on our strategy, considering the challenges posed by the operating environment and other key risks impacting the property industry post COVID-19.

The report is intended primarily for providers of capital but is also relevant to all stakeholders who would like to understand how we seek to create value in the short, mid and long term through good governance, balancing our vision for growth against environmental and social imperatives.

This is our sixth Annual Report since our listing in 2017 and covers the Financial Year 2022. The report also includes the Group's main activities, key business areas and discusses our outlook, targets and objectives.

Click here to view the AR2022 microsite.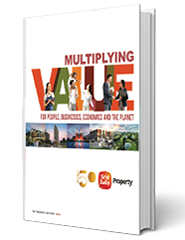 Multiplying Value for People, Businesses, Economies and the Planet
At Sime Darby Property, we are putting into motion our Purpose to Multiplying Value for People, Businesses, Economies and the Planet through initiatives that will shape the future of our industry.
As an industry leader, we aim to transform from a pure-play residential-focused property developer into a real estate company by 2025. Our strategy is centred on executing initiatives that align with our priorities to diversify revenue streams, enhance competencies to increase resilience and improve market offerings, cultivate new capabilities that complement our transformation and expansion plans, as well as implement new and innovative technology. We are also focused on prioritising sustainability and integrating ESG practices in all that we do.
Aligned with our future-forward direction, we are ready to advance real estate as a catalyst for collective progress and manage a thriving asset portfolio that delivers value to all our stakeholders. By redefining our purpose, we believe that Sime Darby Property will contribute to making the world a better place for future generations.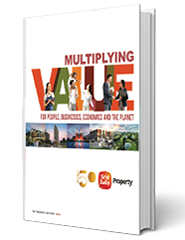 Past Annual Reports