Battersea Power Station Welcomes The Prime Minister Of Malaysia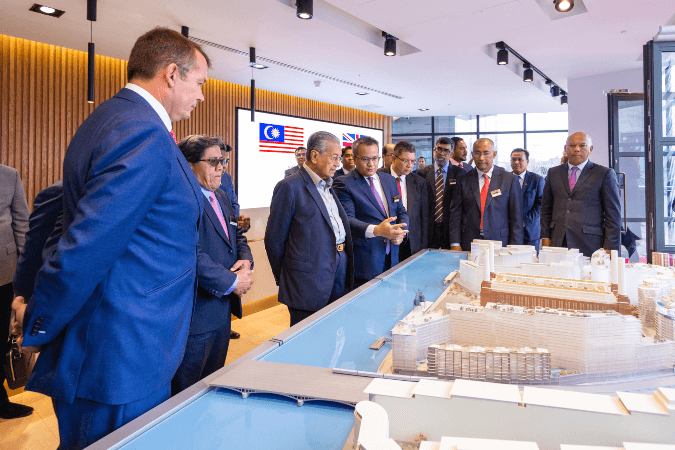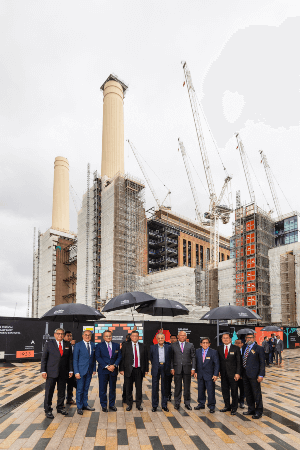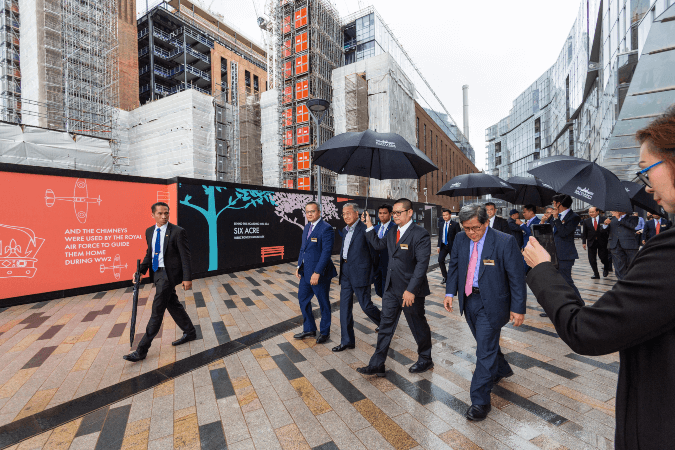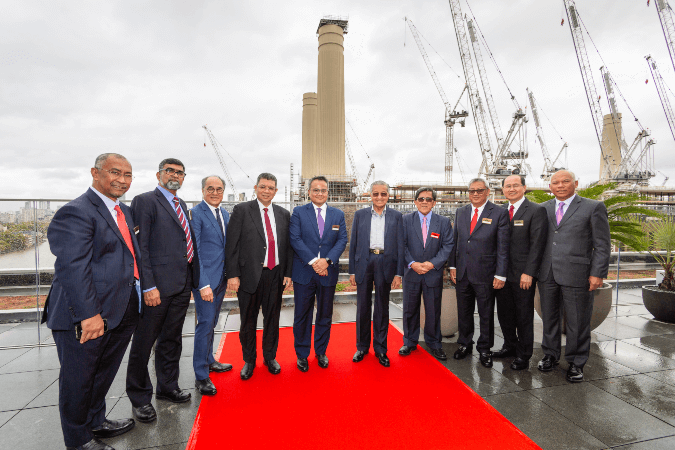 Yg. Amat Berhormat Tun Dr Mahathir bin Mohamad visits Battersea Power Station to see the tremendous progress being made on the 42-acre redevelopment project in London, UK
LONDON, 1 October 2019 - The Prime Minister of Malaysia, YAB Tun Dr Mahathir bin Mohamad, visited Battersea Power Station in Central London, UK, on Sunday to witness the significant progress that is being made on this iconic regeneration project, which is owned by a consortium of Malaysian shareholders.
On YAB's inaugural visit to Battersea Power Station, the Malaysian Prime Minister was greeted by Rick Ramli, Executive Vice President Property/Real Estate of Permodalan Nasional Berhad (PNB), Dato' Ahmad Pardas Senin, Chairman of Battersea Project Holding Company, Datuk Wong Tuck Wai, Chairman of Battersea Power Station Development Company (BPSDC) and Simon Murphy, Chief Executive Officer of BPSDC. The Malaysian Foreign Minister, YB Dato' Saifuddin bin Abdullah and Malaysian High Commissioner, H.E. Datuk Mohamad Sadik Kethergany, were accompanying the Prime Minister on this visit.
As well as receiving an update on the wider development, the Prime Minister was given a tour of one of the apartments at Circus West Village, the first phase of the project to complete, which has a striking view of the restoration works being carried out on the Power Station itself.
The Battersea Power Station development is owned by S P Setia, Sime Darby Property and the Employees' Provident Fund (EPF). The commercial assets within the Power Station building are now directly owned by PNB and EPF following an acquisition completed earlier this year representing one of the largest real estate transactions in the UK.
YAB Tun Dr Mahathir bin Mohamad, Prime Minister of Malaysia, at the end of the visit said, "Fantastic! For Malaysians to do this, it is something that we can all be proud of."
Rick Ramli, Executive Vice President Property/Real Estate of Permodalan Nasional Berhad (PNB), said, "It was a privilege to welcome YAB to Battersea Power Station. The long-term view we are taking on this transformational project is further testament to London's position as a global city and we are proud that we will play an integral part in a historic moment for both Malaysia and the UK when we open the restored building in 2021."
Progress on the transformation of Battersea Power Station continues at pace with the first apartments within the iconic building now completed. As well as over 250 new apartments, Battersea Power Station will also include half a million sq ft of office space, set to become Apple's new London Campus, a further 40,000 sq ft of co-working space operated by No18, over 100 shops, a cinema and an 18,500 sq ft food hall. Work has also commenced on the Chimney Lift Experience, a glass elevator inside the North West Chimney that will take visitors up to a 150m high viewing platform to experience unparalleled views over London. Strong headway is also being made on Electric Boulevard, the third phase of the project which comprises buildings by Gehry Partners and Foster + Partners, forming their first-ever collaboration.
Dato' Ahmad Pardas Senin who is the Chairman of Battersea Project Holding Company, said, "We are honoured to welcome our very own prime minister and showcase the remarkable progress that is being made at Battersea Power Station. We are confident that projects such as Battersea Power Station help to underpin the credentials of Malaysia and Great Britain as global champions of free trade."
Datuk Wong Tuck Wai, Chairman of BPSDC added, "It was a great opportunity to have been able to show YAB around Battersea Power Station which is being given a new lease of life thanks to the time and resources devoted to this iconic project by our consortium. We are incredibly proud of this ambitious venture and are determined to create a new benchmark and be the envy of the development world."
The first phase, Circus West Village, is open and home to over 1,000 residents as well as a thriving community of restaurants, bars and cafes as well as a cinema, hair and beauty salon, theatre and spin studio. Over two million people have visited this new riverside destination in the last 12 months, as well as playing host to a number of different festivals over the summer, including the London Seafood Festival.
There is also a successful wide-ranging community engagement strategy in place that ensures that local people and the wider London community also benefit from this transformational project.
Stay updated on Sime Darby Property activities and developments at simedarbyproperty.com, Facebook (facebook.com/SimeDarbyProperty), Instagram (instagram.com/SimeDarbyProperty) and the Sime Darby Property Mobile App (available for download via the App Store and Google Play).
***ENDS***
About Sime Darby Property Berhad
Sime Darby Property is Malaysia's largest property developer in terms of land bank with 20,374 acres of remaining developable land. On the back of a successful 46-year track record of developing sustainable communities, Sime Darby Property has to date built 23 active townships/developments with a global reach that encompasses assets and operations across the Asia Pacific region and the United Kingdom. In the UK, as part of a Malaysian consortium, Sime Darby Property is the developer of the iconic Battersea Power Station project in central London.
Sime Darby Property is a multiple award-winning property group with numerous local and international accolades. It is the first Malaysian property developer to be awarded the International FIABCI Prix d'Excellence Awards twice for its Subang Jaya and UEP Subang Jaya townships. The company bagged its 9th consecutive Gold at the Putra Brand Awards 2018 and its 6th consecutive Top 10 Developers Awards at the BCI Asia 2015. Sime Darby Property has also been recognised as among the top developers in Malaysia in the annual The Edge Top Property Developers Awards, a recognition which the company consistently receives since 2009.
For more information, log on to www.simedarbyproperty.com
MEDIA CONTACT:
Ahmad Shahriman Johari
Head, Corporate Communications
Sime Darby Property Berhad
E-mail: shahriman.johari@simedarbyproperty.com
Mobile: 019 – 333 8320