Sime Darby Property was created through the integration of the property arms under the former Golden Hope Plantations Berhad, Kumpulan Guthrie Berhad, and Sime Darby Berhad. Our four-decade narrative exemplifies our belief in building a brighter future and reflects our commitment to meet the ever-evolving property needs of a developing Malaysia.
On the back of a successful 45-year track record of developing sustainable communities, we have to date built 23 active townships where generations of Malaysians live, work, and play in environments that are environmentally sensitive and supported by extensive facilities and infrastructure.
Apart from its 20,763 acres of landbank spanning from Selangor to Johor, Sime Darby Property also has assets and operations across the Asia Pacific region and the United Kingdom. Sime Darby Property's global presence brings the best of Malaysian property development and management expertise to the world, while the best of the world's technologies, ideas, and practices to Malaysia.
Our Values

IntegrityUphold high levels of personal and professional values in all our business interactions and decisions

Respect & ResponsibilityRespect for the individuals we interact with and the environment that we operate in (internally and externally) and committing to being responsible in our actions

ExcellenceStretch the horizons of growth for ourselves and our business through our unwavering ambition to achieve outstanding personal and business results

EnterpriseSeek and seize opportunities with speed and agility, challenging set boundaries
Our Vision
To be the no. 1 sustainable property developer
in Malaysia & beyond
CORPORATE STRUCTURE
This section will provide an overview of Sime Darby Property's corporate structure – our main business units, subsidiary entities, listed associates, core business functions and common support functions running through the organisation.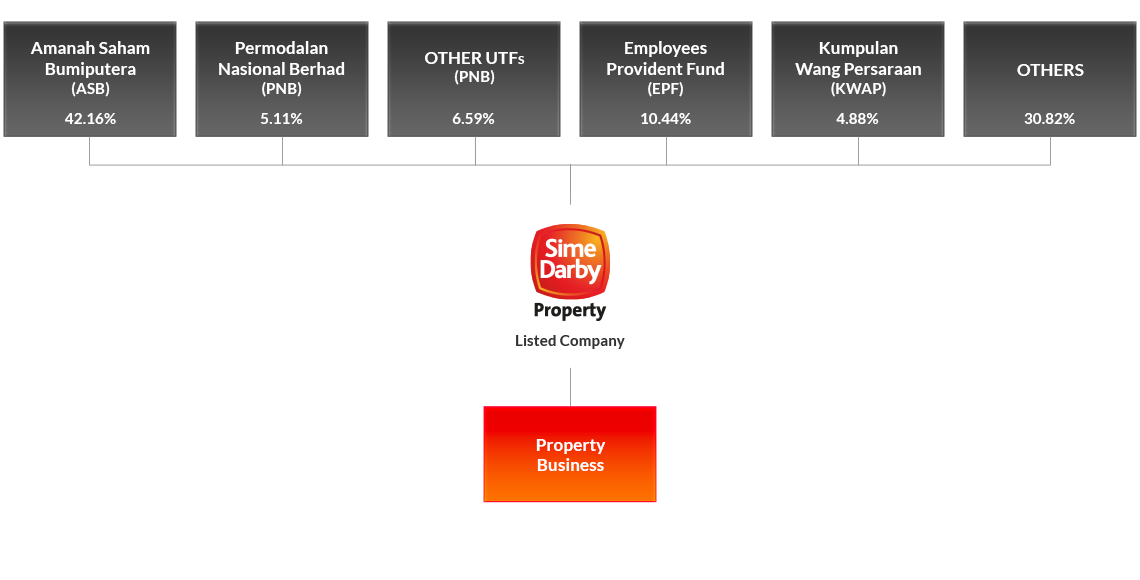 Same set of shareholders will continue to hold the same shareholdings in each entity
Our International Presence