Batu Pahat Technician wins a Sime Darby Property Home in Minggu Saham Amanah Malaysia 2018 eContest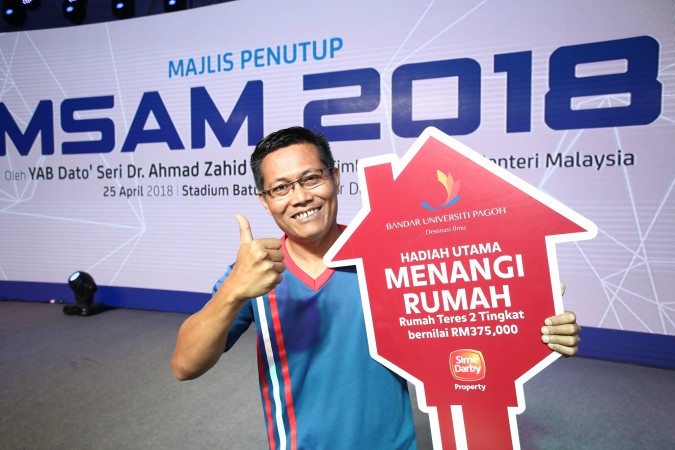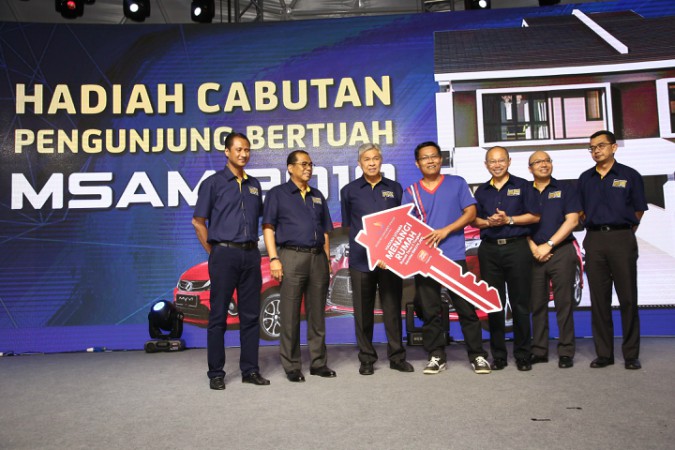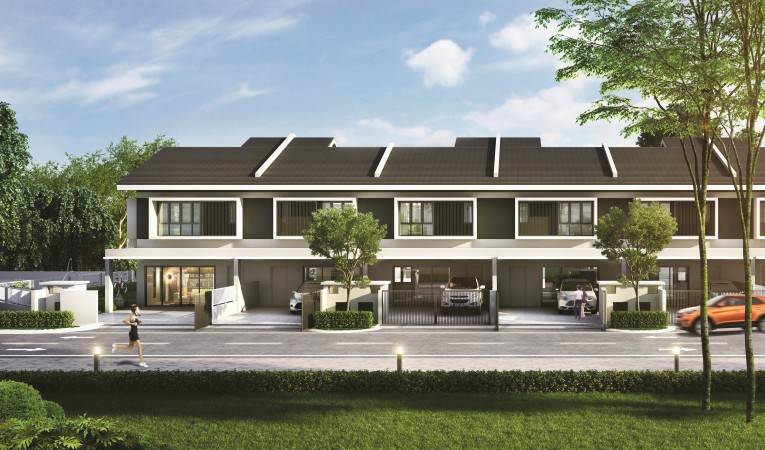 BATU PAHAT, 25 April 2018 – Yunus Bohani, a cabling technician in Batu Pahat, kept coming back to Minggu Saham Amanah Malaysia (MSAM) 2018 as he found it to be exciting. He had also won a small prize in one of the many lucky draws. But nothing prepared him for the surprise of the last day.
"I am overjoyed and surprised to be announced as the grand prize winner! I won a small gift earlier, an iron, so when I was informed that I had won something again, I thought it would be another small gift; I didn't expect it to be a house!," said Yunus, a father of 2 from Kampung Senggarang, Batu Pahat.
Yunus won a Sime Darby Property home after emerging as the Grand Prize Winner of the Minggu Saham Amanah Malaysia (MSAM) 2018 eContest.
He is still not sure of his plans for the new house but he may use it to generate rental income or keep it as an investment.
Valued at RM375,000, the 20' x 65' double-storey link home, Harmoni Vista, is part of Sime Darby Property's Bandar Universiti Pagoh (BUP) township, an exciting new township spanning 4,082 acres located in Muar, Johor.
Dato' Seri Ahmad Zahid Hamidi, Deputy Prime Minister of Malaysia and Tan Sri Abdul Wahid Omar, Group Chairman of Permodalan Nasional Berhad (PNB), accompanied by Dato' Sri Amrin Awaluddin, Group Managing Director of Sime Darby Property, presented the mock key to Yunus, 48, during the closing ceremony of MSAM 2018 held in Batu Pahat, Johor.
"Events like MSAM are definitely remarkable and exciting. This year is my first year attending MSAM and I am impressed at the amount of programmes and activities available for both adults and kids. I submitted four eContest entries but I'm still speechless – I cannot believe I won a home!"
Participants of the eContest were required to answer five questions through electronic terminals available at the MSAM exhibition and estimate the number of balls placed in a glass box. There were a total of 9,708 entries for the eContest and the top 3 with the most accurate answers were announced winners.
MSAM is an annual event organised by PNB which aims to educate the public on financial literacy including financial planning, the concept of risk and return, and on investment vehicles such unit trust funds. Through MSAM, PNB's unit holders get the opportunity to meet and learn about the companies that they are invested in through their unit trust funds. The first MSAM was held on 20 April 2000 and has since been held around the same time every year at different locations around Malaysia.
Updates on Sime Darby Property activities and developments can be found on simedarbyproperty.com, Facebook (facebook.com/SimeDarbyProperty), Instagram (instagram.com/SimeDarbyProperty) and the Sime Darby Property Mobile App (available for download via the App Store and Google Play).
***ENDS***
About Sime Darby Property Berhad
On the back of a successful 45-year track record of developing sustainable communities, Sime Darby Property has to date built 23 active townships/developments with a global reach that encompasses assets and operations across the Asia Pacific region and the United Kingdom. In the UK, as part of a Malaysian consortium, Sime Darby Property is the developer of the iconic Battersea Power Station project in central London.
Sime Darby Property is a multiple award-winning property group with numerous local and international accolades. It is the first Malaysian property developer to be awarded the International FIABCI Prix d'Excellence Awards twice for its Subang Jaya and UEP Subang Jaya townships. The company bagged its 8th consecutive Gold at the Putra Brand Awards 2017 and its 5th consecutive Top 10 Developers Awards at the BCI Asia 2015. Sime Darby Property has also been recognised as among the top developers in Malaysia in the annual The Edge Top Property Developers Awards, a recognition which the company consistently receives since 2009.
For more information, log on to www.simedarbyproperty.com
MEDIA CONTACT:
Ahmad Shahriman Johari
Head, Corporate Communications
Sime Darby Property Berhad
E-mail: shahriman.johari@simedarbyproperty.com
Mobile: 019 – 333 8320