Win a Sime Darby Property Home at Minggu Saham Amanah Malaysia 2018!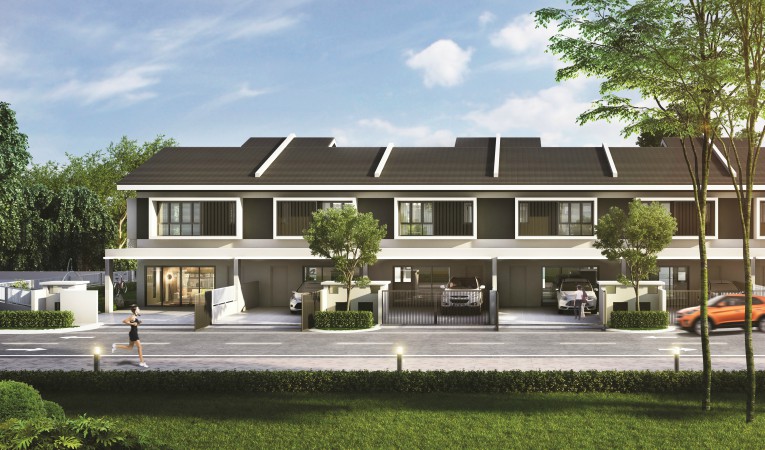 BATU PAHAT, 19 April 2018 – Visitors to the Minggu Saham Amanah Malaysia (MSAM) 2018 will stand a chance to win a Sime Darby Property home, which will be the grand prize at the annual exhibition held by Permodalan Nasional Berhad (PNB) in Batu Pahat, Johor this year.
Valued at RM375,000, the 20' x 65' double-storey link home, is part of Sime Darby Property's Bandar Universiti Pagoh (BUP) township, an exciting new township located in Muar, Johor.
BUP is Malaysia's first township that is seamlessly integrated with a higher education hub, the Pagoh Education Hub (PEH) which houses renowned universities namely Universiti Tun Hussein Onn Malaysia, Universiti Islam Antarabangsa Malaysia, Universiti Teknologi Malaysia and Politeknik Tun Syed Nasir which offer diploma, degree and postgraduate degree courses. PEH welcomed its first batch of more than 5,000 students in October 2017.
Spanning 4,082 acres and centrally located between Kuala Lumpur and Singapore, BUP is strategically accessible and located off the Pagoh Interchange on the North-South Expressway. In addition, BUP will benefit from the Kuala Lumpur - Singapore High Speed Rail (HSR) link project, as Pagoh has been identified as one of the transit locations en route to the final stop in Singapore.
Visitors to MSAM, which will be held from 19 – 25 April 2018, will be able to know more about the grand prize product at the Sime Darby Property booth. This year's theme for MSAM is 'Digitalising Customer Experience', where Sime Darby Property will be participating under the "Green Zone" (Environment) at booth R7.
Sime Darby Property's Group Managing Director, Amrin Awaluddin said, "Sime Darby Property is honoured to be one of the main partners for MSAM. This is our 19th year participating and we are committed to help communities improve their understanding and knowledge of financial investments through key events such as MSAM."
MSAM is an annual event organised by PNB which aims to educate the public on financial literacy including financial planning, the concept of risk and return, and on investment vehicles such unit trust funds. Through MSAM, PNB's unit holders get the opportunity to meet and learn about the companies that they are invested in through their unit trust funds. The first MSAM was held on 20 April 2000 and has since been held around the same time every year at different locations around Malaysia.
For more details on how you can stand a chance to win a Sime Darby Property home, download the PNB events app available from Google Play or the App Store for both Android and iOS mobile phones. Or make your way to Sime Darby Property's booth at the MASM exhibition in Batu Pahat, Johor.
Updates on Sime Darby Property activities and developments can be found on simedarbyproperty.com, Facebook (facebook.com/SimeDarbyProperty), Instagram (instagram.com/SimeDarbyProperty) and the Sime Darby Property Mobile App (available for download via the App Store and Google Play).
***ENDS***
About Sime Darby Property Berhad
On the back of a successful 45-year track record of developing sustainable communities, Sime Darby Property has to date built 23 active townships/developments with a global reach that encompasses assets and operations across the Asia Pacific region and the United Kingdom. In the UK, as part of a Malaysian consortium, Sime Darby Property is the developer of the iconic Battersea Power Station project in central London.
Sime Darby Property is a multiple award-winning property group with numerous local and international accolades. It is the first Malaysian property developer to be awarded the International FIABCI Prix d'Excellence Awards twice for its Subang Jaya and UEP Subang Jaya townships. The company bagged its 8th consecutive Gold at the Putra Brand Awards 2017 and its 5th consecutive Top 10 Developers Awards at the BCI Asia 2015. Sime Darby Property has also been recognised as among the top developers in Malaysia in the annual The Edge Top Property Developers Awards, a recognition which the company consistently receives since 2009.
For more information, log on to www.simedarbyproperty.com
MEDIA CONTACT:
Ahmad Shahriman Johari
Head, Corporate Communications
Sime Darby Property Berhad
E-mail: shahriman.johari@simedarbyproperty.com
Mobile: 019 – 333 8320