Sime Darby Property and Melati Apartment community launch new community garden in Bukit Subang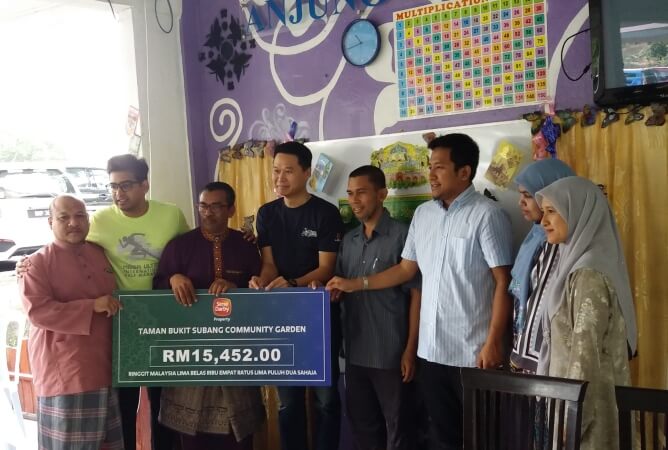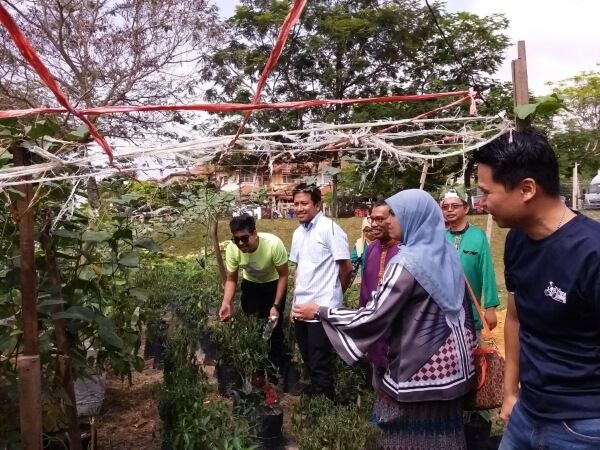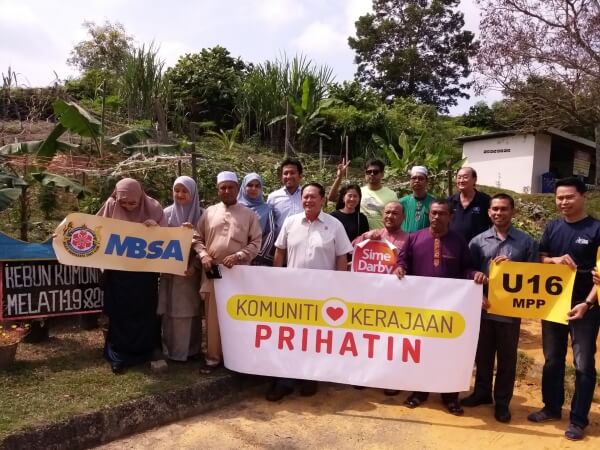 An urban farming project that aims to build a stronger and sustainable community
SHAH ALAM, 8 July 2018 – Sime Darby Property and the community of Melati Apartment in Bukit Subang launched the Melati Community Garden (Kebun Komuniti Melati) today, an effort to maximise the use of available green spaces and to assist urban communities address the rising cost of living.
The launch was officiated by Kota Anggerik state assemblyman YB Najwan Halimi and attended by the Department of National Constitution and National Integration (JPNIN Selangor) Director Pn. Fairojibanu Zainal Abidin, Sime Darby Property General Manager Appollo Leong and members of the community.
The community garden project was established to provide low-income families in the Bukit Subang township with essential facilities for the growing of edible crops for self-consumption and to create income from the sale of their produce.
Sime Darby Property supported the initiative through the setting up of gardening infrastructure such as a fertigation farming system, a crop management method that provides fertiliser and water supply through drip irrigation, improving crop nutrient absorption and ensures productive yields. The method is systematic and manageable compared to conventional farming.
Sime Darby Property General Manager Appollo Leong said, "The Melati Community Garden is a pilot project that will benefit 30 selected families from the Melati Apartment in Bukit Subang. We are proud to be a part of this initiative, which will benefit the community with healthy and nutritious food, improved livelihood and a more harmonious living environment".
The Melati Community Garden applies the urban farming concept that puts inactive green spaces into use and will be introduced in three phases. Phase 1 involves an area of 74m x 6m, 70m x 6m area for Phase 2 and 64m x 6m area for Phase 3. These phases will be developed in stages and will include the fertigation system.
To date, a total of 30 participants have registered and ready to provide full-time commitment to Phase 1, with more community participation expected soon. The participants will be provided with agricultural training to enhance their knowledge and skills, ensuring a positive impact to the project.
Bukit Subang is a 250-acre township developed by Sime Darby Property. It is one of four townships at the City of Elmina that also includes Denai Alam (1,000 acres), Elmina East (1,088 acres) and Elmina West (2,662 acres).
City of Elmina is the first township dedicated to wellness and liveability in Malaysia, planned and developed in line with specifications set out by Mercer's Quality of Living Survey, an internationally recognised standard that measures liveability.
Updates on Sime Darby Property activities and developments can be found on simedarbyproperty.com, Facebook, Instagram and the Sime Darby Property Mobile App (available for download via the App Store and Google Play).
***ENDS***
About Sime Darby Property Berhad
Sime Darby Property is Malaysia's largest property developer in terms of land bank with 20,743 acres of remaining developable land as at 31 December 2017. On the back of a successful 45-year track record of developing sustainable communities, Sime Darby Property has to date built 23 active townships/developments with a global reach that encompasses assets and operations across the Asia Pacific region and the United Kingdom. In the UK, as part of a Malaysian consortium, Sime Darby Property is the developer of the iconic Battersea Power Station project in central London.
Sime Darby Property is a multiple award-winning property groups with numerous local and international accolades. It is the first Malaysian property developer to be awarded the International FIABCI Prix d'Excellence Awards twice for its Subang Jaya and UEP Subang Jaya townships. The company bagged its 8th consecutive Gold at the Putra Brand Awards 2017 and its 6th consecutive Top 10 Developers Awards at the BCI Asia 2015. Sime Darby Property has also been recognised as among the top developers in Malaysia in the annual The Edge Top Property Developers Awards, a recognition which the company consistently receives since 2009.
For more information, log on to www.simedarbyproperty.com
MEDIA CONTACT:
Ahmad Shahriman Johari
Head, Corporate Communications
Sime Darby Property Berhad
E-mail: shahriman.johari@simedarby.com
Mobile: 019 – 333 8320