Sime Darby Property Launches Great Minds Campaign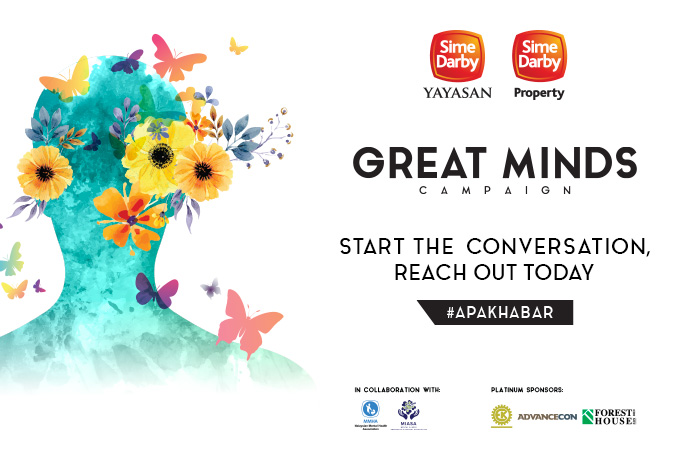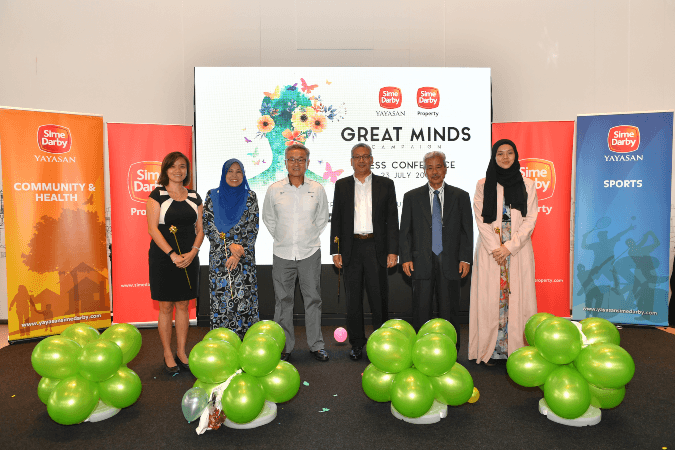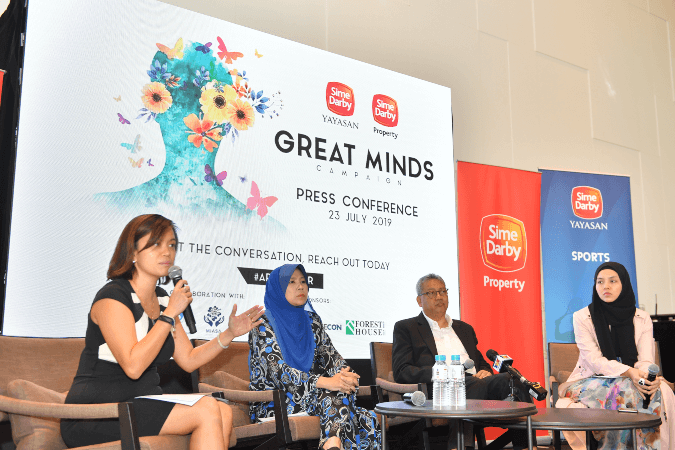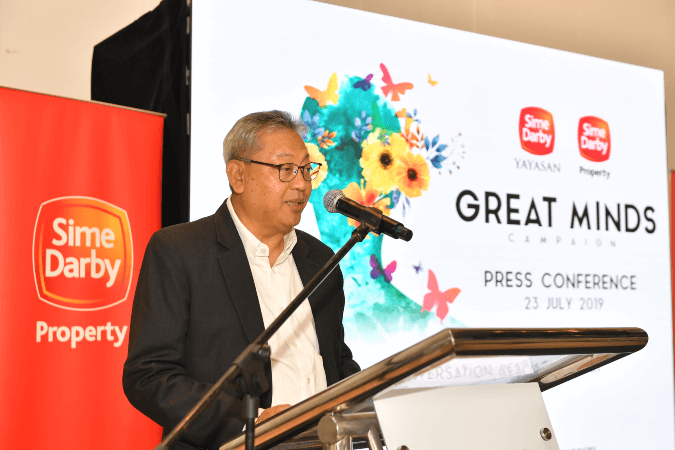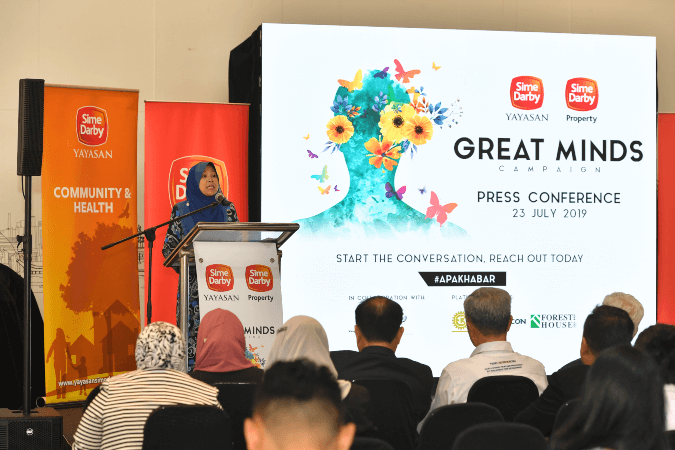 Collaborative effort with Yayasan Sime Darby aims to continue the conversation about mental health and break the stigma surrounding mental illness
ARA DAMANSARA, 23 July 2019 – Sime Darby Property in collaboration with Yayasan Sime Darby today announced the launch of the Great Minds Campaign 2019, a mental health awareness initiative targeting children, youths and members of the public.
Sime Darby Property and Yayasan Sime Darby, together with campaign partners, the Mental Illness Awareness and Support Association (MIASA) and Malaysian Mental Health Association (MMHA) will organise workshops and forums on mental health in schools, universities and corporate organisations benefitting more than 500 individuals. This will be followed by an exhibition at the Great Minds Charity Ride event in Bandar Ainsdale to promote public awareness on mental health issues among 1,500 expected participants during the event.
The Great Minds Campaign aims to focus on three critical areas; raising awareness , educating society on the early identification of mental health issues and engaging stakeholders on how to care for their mental health through workshops, forums, partnership engagements and awareness programmes.
The campaign also aims to impart knowledge among students on mental health and teach younger generations how to detect signs of mental issues, ways to reach out to those in need and where to seek help.
Dato' Wan Hashimi Albakri, Acting Group Chief Executive Officer of Sime Darby Property said, "The rising concern over mental health, especially among our youths in Malaysia has triggered us to do our part in breaking the stigma surrounding mental illnesses. As a leader in developing sustainable communities, we believe it is important that beyond homes, a healthy and thriving community can provide comfort for the mind, body and soul."
"Sime Darby Property believes that mental health issues should not be a topic of discussion only when a tragic story hits the papers, but a national conversation now. This conversation should then lead to research, plans and actions taken to reach out and help those who are in need of help.
"At Sime Darby Property, a family's well-being is at the forefront of every sustainable community and we want to do our part in continuing the conversation about mental health in the country and break the stigma surrounding mental illness. Our appreciation goes to our partners and willing sponsors for their commitment in carrying out this campaign."
The Great Minds Campaign is a 5-month campaign which will run until November 2019. Statistics from the National Health and Morbidity Survey 2017 on mental health revealed that 29 per cent of adolescents in the country are suffering from depression and anxiety disorder compared with 12 per cent in 2011.
YSD Chief Executive Officer (CEO) Pn. Hajjah Yatela Zainal Abidin expressed YSD's concern that mental health issues are on the rise in Malaysia.
"Research indicates that by 2020, mental illness is expected to be the second biggest health problem affecting Malaysians after heart disease. However, unfortunately, mental health remains as one of the least addressed health challenges in the country, and a subject that is instinctively avoided to a point that it has become taboo. It is a topic that tends to be brushed aside and under the carpet, due to stigma as we do not understand it," she said.
"Therefore, YSD is excited to collaborate with Sime Darby Property to spread awareness about mental health and the issues surrounding it, through workshops and forums to be held with various target groups such as school children, university students and corporate employees; whilst also encouraging improvement in mental health through a sporty lifestyle, by taking up a sporty interest such as cycling."
"Closer to home, through the YSD Huluran Kasih programme which is an employee volunteering initiative across the 3 Sime Darby companies, we are encouraging employees to volunteer to assist during the mental health awareness workshops. We hope they will be empowered to better deal with mental health issues, while spreading the awareness to their workplaces and communities," she added.
The first few mental health awareness workshops; called "Bengkel Emosi dan Harapan (EH!)" took place recently at the Sekolah Kebangsaan and Sekolah Menengah Kebangsaan Wangsa Melawati, and Sekolah Menegah Kenbangsaan Bukit Jelutong with the participation of more than 85 school children. The workshops are a platform for children to reach out if they are affected emotionally and mentally besides raising mental health awareness.
The workshop will also involve two universities; International Islamic University Malaysia (IIUM) and Monash University Malaysia and comprise engagement programmes at two shelter homes for children in Petaling Jaya and Seremban as well as for employees within the Sime Darby corporate offices during the course of this campaign.
The apex of the campaign is the Great Minds Charity Ride that is set to take place on 12 October 2019 in Bandar Ainsdale, Negeri Sembilan, targeting the participation of around 1500 local and international riders. Proceeds from the event will be channelled to our partners MMHA, MIASA in their efforts to promote mental health care in the country as well as the Shelter Home for Children in Petaling Jaya and the Shelter for Women and Children in Seremban.
Registration for the charity ride will be available at www.sports306.my by August 2019. Contact the organiser at 03-4142 1333 or enquiry@sports360.my.
Find out more about Mental Health and happenings by visiting https://mmha.org.my/
#apakhabar
Stay updated on Sime Darby Property activities and developments at simedarbyproperty.com; Facebook (facebook.com/SimeDarbyProperty); Instagram (instagram.com/SimeDarbyProperty); and the Sime Darby Property Mobile App (available for download via the App Store and Google Play).
Get the latest news on Yayasan Sime Darby activities and projects at yayasansimedarby.com and Facebook page at facebook.com/YayasanSimeDarby
***ENDS***
About Sime Darby Property Berhad
Sime Darby Property is Malaysia's largest property developer in terms of land bank with 20,374 acres of remaining developable land. On the back of a successful 46-year track record of developing sustainable communities, Sime Darby Property has to date built 23 active townships/developments with a global reach that encompasses assets and operations across the Asia Pacific region and the United Kingdom. In the UK, as part of a Malaysian consortium, Sime Darby Property is the developer of the iconic Battersea Power Station project in central London.
Sime Darby Property is a multiple award-winning property group with numerous local and international accolades. It is the first Malaysian property developer to be awarded the International FIABCI Prix d'Excellence Awards twice for its Subang Jaya and UEP Subang Jaya townships. The company bagged its 9th consecutive Gold at the Putra Brand Awards 2018 and its 6th consecutive Top 10 Developers Awards at the BCI Asia 2015. Sime Darby Property has also been recognised as among the top developers in Malaysia in the annual The Edge Top Property Developers Awards, a recognition which the company consistently receives since 2009.
For more information, log on to www.simedarbyproperty.com
About Yayasan Sime Darby
Yayasan Sime Darby, or Sime Darby Foundation, was established in 1982 and is the philanthropic arm of Sime Darby Plantation Berhad, Sime Darby Property Berhad and Sime Darby Berhad.
The objectives of Yayasan Sime Darby are supported by its five pillars, namely: education; environment; community & health; sports; arts & culture. While led by independent members of a Governing Council and managed by a dedicated team, Yayasan Sime Darby works closely with Sime Darby Plantation Berhad, Sime Darby Property Berhad and Sime Darby Berhad in areas of mutual interest.
Since its inception, Yayasan Sime Darby has awarded scholarships worth RM268 million to 3,786 students both in and outside Malaysia. It is supporting long term research projects of significant scientific value like the Stability of Altered Forest Ecosystems (SAFE) project which is the world's largest ecological project, and the Reforestation and Rehabilitation of Orangutan Habitats in Northern Ulu Segama.
Yayasan Sime Darby is also actively involved in the development and improvement of sports in Malaysia namely track cycling, and football. Under its community & health pillar, Yayasan Sime Darby supports initiatives to promote the well-being of disadvantaged people irrespective of race, culture, religion, creed or gender and works with established organisations to promote the development of arts & culture.
For more information, log on to www.yayasansimedarby.com
MEDIA CONTACT:
Ahmad Shahriman Johari
Head, Corporate Communications
Sime Darby Property Berhad
E-mail: shahriman.johari@simedarbyproperty.com
Mobile: 019 – 333 8320
Sherliza Zaharudin
Head, External Communications
Sime Darby Property Berhad
Email: sherliza.zaharudin@simedarbyproperty.com
Mobile: 019 - 267 6346
Wan Mohamad Akid W. Zaid
Executive, Public Relations
Yayasan Sime Darby
Email: wan.mohamad.akid@simedarby.com
Mobile: 014 - 510 7559