I'M INTERESTED
Terms & Conditions
How can you apply?
RM 3,001
MIN. MONTHLY INCOME
RM 10,000
MAX. MONTHLY INCOME
Malaysian citizens aged 18 years and above
Applicant's income is from RM3,001 - RM10,000 per month or household income (husband and wife) does not exceed RM10,000 per month
The applicant (husband/wife) does not have any kind of residential property in Selangor
Purpose of purchase is for own stay, not renting out.
Transfer of ownership only allowed after five (5) years from the date of Sale and Purchase Agreement with approval from the State Authority
*Subject to the terms and conditions of the Selangor Housing and Property Board (LPHS)
Two (2) copies each of the applicant's and spouse's Identification Card.
Two (2) copies of the latest Income Statement for the last three (3) months for employed applicants and spouse, or Declaration of Oath from Commissioner of Oaths if self-employed and spouse is not working (original copy).
One (1) copy of the Marriage Certificate or a Bachelor Verification Letter from the employer, or a Declaration of Oath from the Commissioner of Oaths if the applicant is single and self-employed.
Two (2) copies each of the latest EPF Statement and Statement of Withdrawal History of the applicant and spouse.
Applicant and spouse's latest CCRIS Statement.
One (1) copy of Sale & Purchase Agreement (S&P) and one (1) copy of the Housing Loan Agreement with the bank under the name of the applicant is already a homeowner outside Selangor.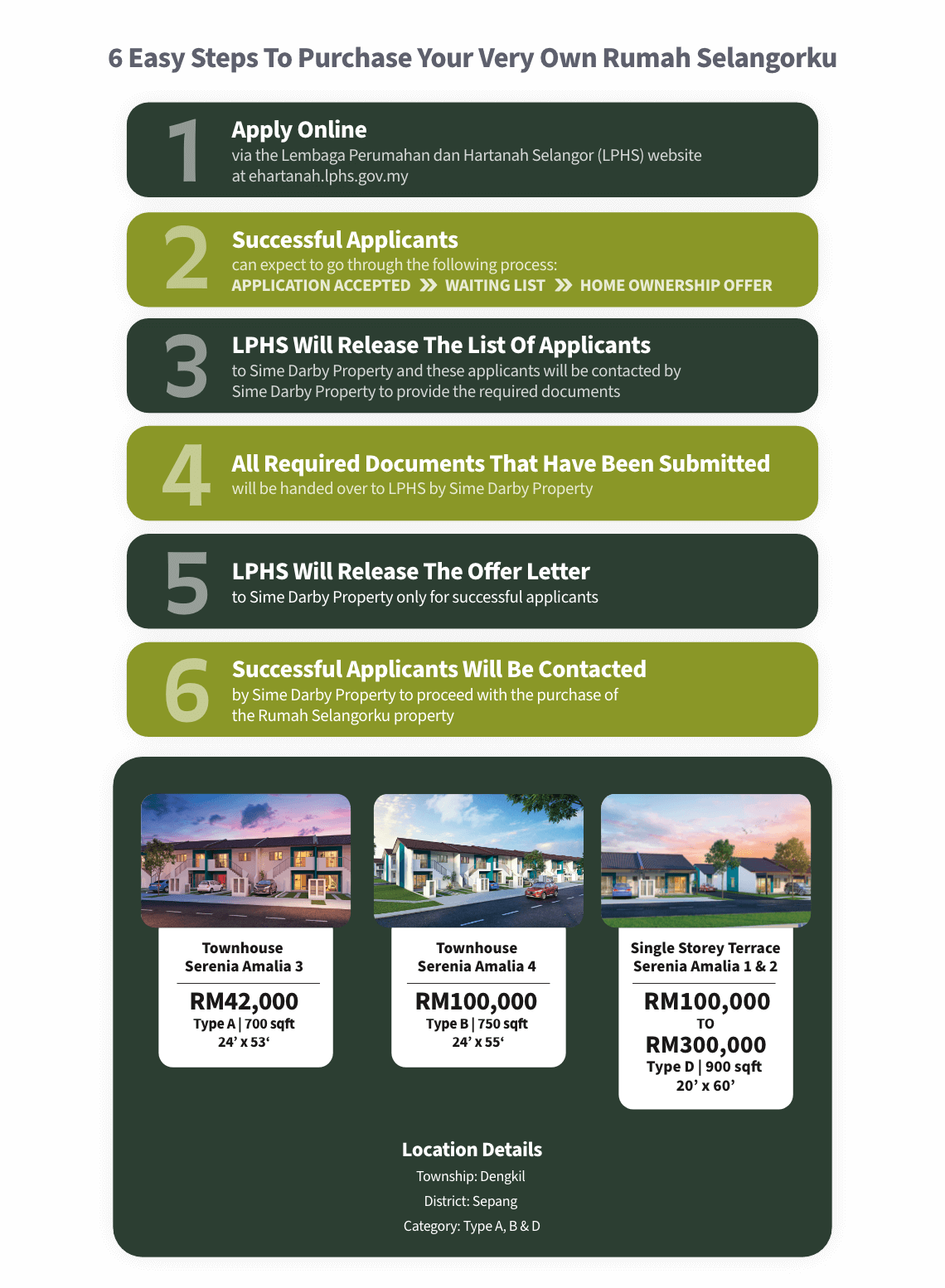 Quality essential living
Serenia City introduces the addition of an affordable housing project of quality under the programme. Amalia 2, a Rumah Selangorku initiative, brings you the joy of homeowning and provides its residences with a secure housing environment.
Amalia 2 Special Features
A home with an edge
Strategic Location
Strategically located and only a short drive away from Kuala Lumpur City Centre, Putrajaya, Cyberjaya, and Kuala Lumpur International Airport (KLIA).
Accessibility
Within close proximity to Kuala Lumpur International Airport (KLIA), Putrajaya, Cyberjaya, and Kuala Lumpur City Centre, the township is accessible by road or by rail through major transportation hubs including KLIA ERL Station, Salak Tinggi ERL Station, ELITE Highway, MAX Highway, and Putrajaya-Dengkil highway.
Contemporary Facade Design
A modern and minimalistic design that caters to your every need.
North-South Orientation
Developed in detail following a North-South orientation to allow controlled sunlight and natural ventilation.