City of Elmina MTB Jamboree A Success for 3rd Consecutive Year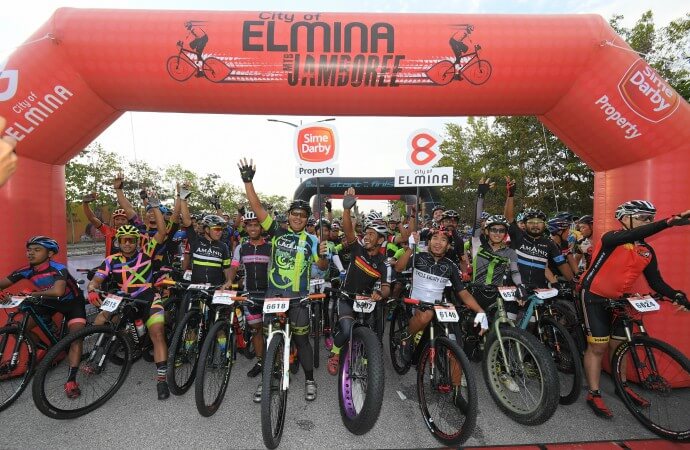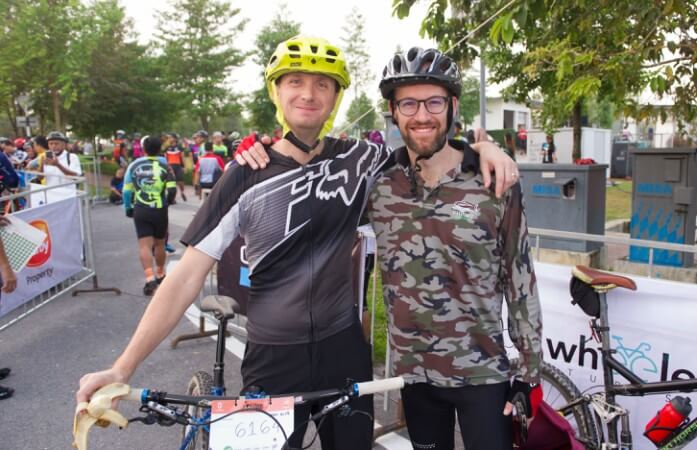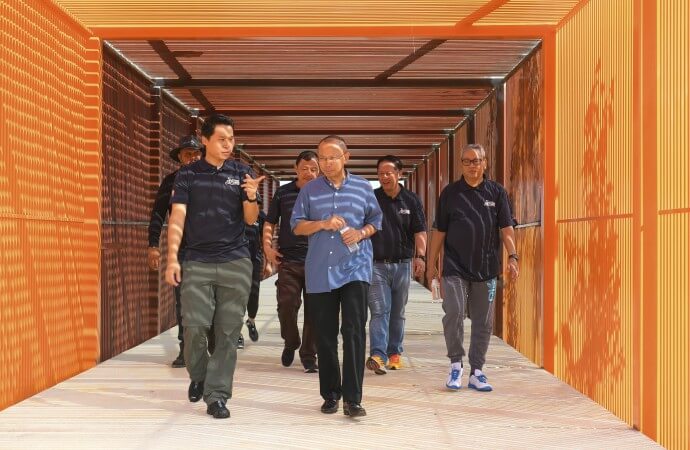 Overwhelming response from public with more than 1,000 enthusiastic participants
CITY OF ELMINA, 21 December 2017 – Sime Darby Property recently organised the third installation of its City of Elmina Mountain Bike (MTB) Jamboree, which like previous years, received an overwhelming response from the public with more than one thousand enthusiastic participants from different countries including Malaysia, Philippines, South Africa, Denmark, the Netherlands and British Indian Ocean Territory, taking part in the event.
The event was divided into two main categories – Race and Jamboree – on a specially designed off-road trail spanning a distance of 33km, which is located near the 2,700 acres forest reserve within Sime Darby Property's scenic and lush City of Elmina township.
Participants had the opportunity to experience the newly completed trails of the Elmina West Central Park before its public opening in 2018, as winners walked away with cash and other attractive prizes.
Sime Darby Property Chief Operating Officer Dato' Wan Hashimi Albakri said, "Sime Darby Property recognises the importance of organising a sporting event like the MTB Jamboree for the public, especially the cycling community as City of Elmina is designed with the principle of wellness in mind. We want to encourage healthy lifestyles and establish vibrant community living. We bring people together creatively in places and spaces where they can socialise, have fun, enrich each other's lives and just be happy. Nowadays, customers look beyond just the property – they look at the quality of lifestyle the township has to offer."
There was also a 'Fun Ride' introduced this year exclusively for Sime Darby Property's Management team, representatives from the local council and authorities, as well as members of the media, led by Sime Darby Property General Manager Appollo Leong, alongside triathletes Jessen Lee & Sue Teoh.
Sime Darby Property General Manager, Appollo Leong said, "City of Elmina pushes the envelope further in the development of sustainable communities, going beyond the usual eco-friendly gestures and embracing wellness in its entirety, to create a well-balanced living environment for a vibrant and healthy growing urban community."
The 5,000 acre City of Elmina is the first themed township in Malaysia that embraces the concept of "wellness" and "liveable city" in a holistic manner and encapsulates eight elements of wellness, namely social, environmental, intellectual, family, occupational, physical, emotional and spiritual.
The City of Elmina includes townships of Denai Alam, Bukit Subang, Elmina East and Elmina West. Located along the Guthrie Corridor Expressway, the City of Elmina offers seamless inter-connectivity and accessibility.
Among City of Elmina's features are the 300-acre Elmina Central Park and 90 kilometres cycling and jogging track; one of the longest tracks in the country. The City of Elmina is planned and developed in line with specifications set out by Mercer's Quality of Living Survey, an internationally recognised standard that measures liveability.
Future launches in City of Elmina include the final piece of landed property in Denai Alam which will consist of Semi dees (48 units) and double-storey super link homes (114 units) sitting on 23 acres of land which Sime Darby Property is targeting to launch in early 2018. In addition, Elmina Green 1B will tentatively be launched in early to mid-2018, comprising 211 units of 20' x 70' double-storey linked homes.
Updates on Sime Darby Property activities and developments can be found on simedarbyproperty.com, Facebook (facebook.com/SimeDarbyProperty), Instagram (instagram.com/SimeDarbyProperty) and the Sime Darby Property Mobile App (available for download via the App Store and Google Play).
About Sime Darby Property Berhad
On the back of a successful 45-year track record of developing sustainable communities, Sime Darby Property has to date built 23 active townships/developments with a global reach that encompasses assets and operations across the Asia Pacific region and the United Kingdom. In the UK, as part of a Malaysian consortium, Sime Darby Property is the developer of the iconic Battersea Power Station project in central London.
Sime Darby Property is a multiple award-winning property group with numerous local and international accolades. It is the first Malaysian property developer to be awarded the International FIABCI Prix d'Excellence Awards twice for its Subang Jaya and UEP Subang Jaya townships. The company bagged its 8th consecutive Gold at the Putra Brand Awards 2017 and its 5th consecutive Top 10 Developers Awards at the BCI Asia 2015. Sime Darby Property has also been recognised as among the top developers in Malaysia in the annual The Edge Top Property Developers Awards, a recognition which the company consistently receives since 2009.
For more information, log on to www.simedarbyproperty.com
MEDIA CONTACT:
Ahmad Shahriman Johari
Head, Corporate Communications
Sime Darby Property Berhad
E-mail: shahriman.johari@simedarby.com
Mobile: 019 – 333 8320