Double Global Win for Environmental Initiative in Bandar Bukit Raja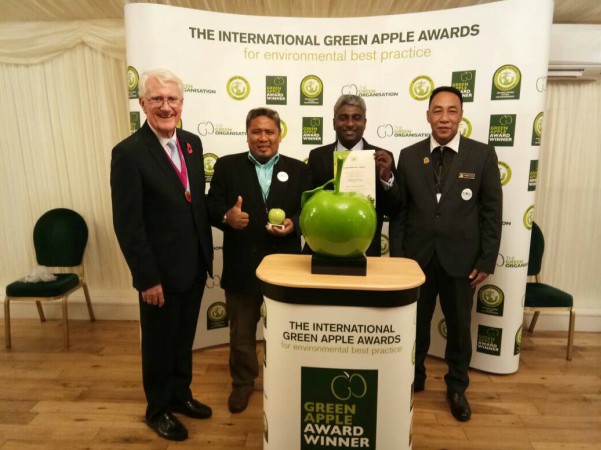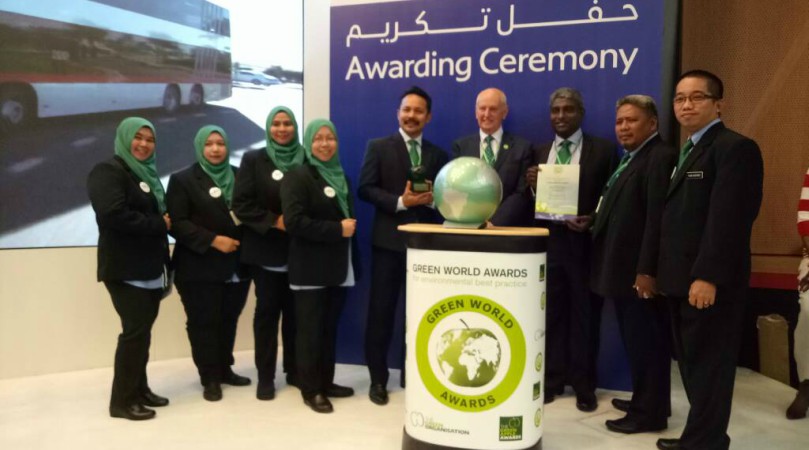 A collaboration between Sime Darby Property's Bandar Bukit Raja Township, Klang Municipal Council and Residents Association
BANDAR BUKIT RAJA, 26 December 2017 – A collaborative environmental initiative between Sime Darby Property's Bandar Bukit Raja Township, its residents and the Klang Municipal Council (MPK) has won double global recognition in London and Dubai recently.
MPK was awarded 'Global Gold Winner' in the Sustainability category for best environmental practices during the Green World Awards held on 11 December 2017 in Dubai, a month after receiving Gold at the Green Apple Awards in London (Asia Pacific category).
Sime Darby Property's Bandar Bukit Raja (BBR) Township in Klang, Selangor developed a simple but effective method of upcycling household materials with the assistance of MPK. All of BBR's marketing promotional banners and buntings are collected diligently and sent to single-parent centres where they are then recycled into attractive shopping bags.
For BBR's Residents Association (RA), their recycled household materials are collected monthly, and the equivalent monetary value is then given to the RAs on a monthly basis. These activities are also captured and monitored by a mobile app which was created by MPK.
Sime Darby Property Managing Director Dato' Sri Amrin Awaluddin said, "This is a great example of Sime Darby Property's community initiative, a collaboration between multiple stakeholders that delivers real value to everyone. Our Bandar Bukit Raja Township is proud to be part of the team which was recognised internationally for not one but two awards. We are truly honoured."
The Green World Awards is an extension of the Green Apple Environment Awards, the annual international campaign to recognise, reward and promote environmental best practice around the world. The Green Apple Environment Awards was launched in 1994 by The Green Organisation and has become well established as one of the most popular environmental campaigns in the world.
Sime Darby Property General Manager, Mohd Idris Abdullah said, "Three simple steps – upcycling, giving back monetary value to the community, and being monitored by a mobile app – led to the win. In addition, we displayed a strong sense of teamwork and togetherness with the local community compared with other submissions. Ultimately, this showcases Sime Darby Property's commitment to community engagement and environmental responsibility, something which we take very seriously throughout our townships."
Bandar Bukit Raja is one of Sime Darby Property's showcase townships and an integrated and self-contained township in Klang. Since its launch in 2002, it has become a residential development synonymous with growth in value, spanning 4,405 acres with still over 90% of land area to be developed.
Several improvements are in the pipeline to make Bandar Bukit Raja a more conducive township which include developing a 125-acre town park, the largest of its kind in North Klang, as well as safety and security features such as its single entry and exit point for each of its housing areas.
In addition, there will be further improvements to the network of connectivity and highways surrounding Bandar Bukit Raja such as the completion of the West Coast Expressway, LRT Line 3 extension to Klang, and the upgrading of Jalan Meru.
In August this year, Columbia Asia Hospital – Klang officially opened its doors to the public, located within BBR. A health carnival organised by Sime Darby Property was held to welcome the hospital to the township, where BBR PRIME members were offered a free personalised Privilege Card (a collaboration between Sime Darby Property and Columbia Asia) entitling them to receive discounts on health screening packages as well as room and board until the end of 2018.
Future launches in BBR include Azira, comprising 111 units of 20' x 75' double-storey terrace houses with a starting price of RM678,888. Launching in January 2018, Azira homes have built up areas from 1,901 sq ft to 2,275 sq ft and come with 4 bedrooms and 4 bathrooms.
Updates on Sime Darby Property activities and developments can be found on simedarbyproperty.com, Facebook (facebook.com/SimeDarbyProperty), Instagram (instagram.com/SimeDarbyProperty) and the Sime Darby Property Mobile App (available for download via the App Store and Google Play).
About Sime Darby Property Berhad
On the back of a successful 45-year track record of developing sustainable communities, Sime Darby Property has to date built 23 active townships/developments with a global reach that encompasses assets and operations across the Asia Pacific region and the United Kingdom. In the UK, as part of a Malaysian consortium, Sime Darby Property is the developer of the iconic Battersea Power Station project in central London.
Sime Darby Property is a multiple award-winning property group with numerous local and international accolades. It is the first Malaysian property developer to be awarded the International FIABCI Prix d'Excellence Awards twice for its Subang Jaya and UEP Subang Jaya townships. The company bagged its 7th consecutive Gold at the Putra Brand Awards 2016 and its 5th consecutive Top 10 Developers Awards at the BCI Asia 2015. Sime Darby Property has also been recognised as among the top developers in Malaysia in the annual The Edge Top Property Developers Awards, a recognition which the company consistently receives since 2009.
For more information, log on to www.simedarbyproperty.com
MEDIA CONTACT:
Ahmad Shahriman Johari
Head, Corporate Communications
Sime Darby Property Berhad
E-mail: shahriman.johari@simedarby.com
Mobile: 019 – 333 8320