WORLD'S 100 GREATEST GOLF COURSES RANKS TPCKL AT 78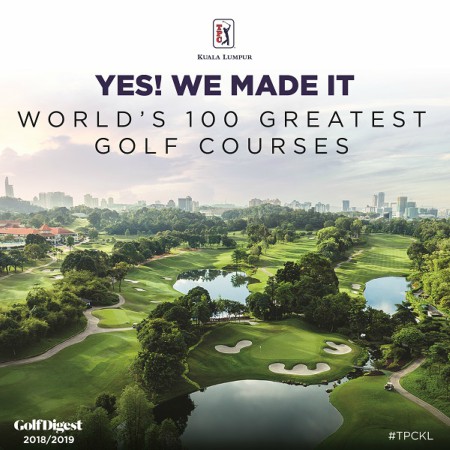 Kuala Lumpur, January 2018 – Malaysia's premier Golf and Country Club, TPC Kuala Lumpur has recently recorded another amazing milestone as its multi award-winning West Course was placed 78th in the coveted list of the coveted World's 100 Greatest Golf Courses.
Currently closed while under-going a major upgrade on all 18 holes, TPC Kuala Lumpur's Par 72 West Course which spans 7,005 yards has successfully staged numerous international tournaments and been graced by world champions including Justin Thomas, Adam Scott, Rory McIlroy, Phil Mickelson, Sergio Garcia, Ricky Fowler and many more.
Designed by PWGD and proudly owned by Sime Darby Property, TPC Kuala Lumpur's West Course is scheduled to welcome several top international golfers again in the fourth quarter of this year with a whole new level of golfing experience on its newly resurfaced fairways and greens.
"This recognition reinforces the team's motivation to excel as being among the best in the world as well as serve as a testament to what TPC Kuala Lumpur's team is made of," said Steven Thielke, Chief Executive Officer of TPC Kuala Lumpur.
"To be listed in the World's 100 Greatest Golf Courses has been part of our Club's mission since we became a member of the Tournament Players Club (TPC) network about 18 months ago and today I am very proud that team has made it!" Thielke added.
The World's 100 Greatest Golf Courses uses a single criterion of overall greatness scored not just by Americans but also by international panelists organised by Golf Digest's affiliated magazines around the world. The selection and voting process takes place every two years, taking into
The following are the Top 10 on the list, full details of which may be viewed at golfdigest.com:
1/ Royal County Down G.C. (Championship) Newcastle, Northern Ireland
2/ Royal Dornoch G.C. (Championship) Scotland
3/ Royal Melbourne G.C. (West) Black Rock, Australia
4/ Muirfield Gullane, Scotland
5/ The Old Course at St Andrews, Fife, Scotland
6/ Tara Iti G.C., Mangawhai, New Zealand
7/ Royal Portrush G.C. (Dunluce), Northern Ireland
8/ Shanqin Bay G.C., Hainan Island, China
9/ Cabot Cliffs, Inverness, Nova Scotia, Canada
10/ Trump Turnberry (Ailsa), Scotland
About TPC Kuala Lumpur
Formerly known as Kuala Lumpur Golf and Country Club, TPC Kuala Lumpur is a 36-hole tournament-standard course strategically located in them lush landscape of Bukit Kiara, just eight kilometres from the heart of Kuala Lumpur. Its proprietor Sime Darby Property; designed the club as an elegant and relaxing golf haven surrounded by natural beauty.
TPC Kuala Lumpur defines new standards in golf and country clubs with its superior service, excellent facilities and warm hospitality. The high quality of construction is synonymous with Sime Darby Property and incorporates state-of-the art technologies with impressive attention to detail.
TPC Kuala Lumpur captured the world's attention from staging the PGA TOUR, European Tour and the LPGA all within a year for three consecutive years between 2013 and 2015. In October 2016, TPC Kuala Lumpur made history again by successfully staging the PGA TOUR-sanctioned CIMB Classic and Sime Darby LPGA Malaysia consecutively, both feats unknown before in the history of golf.
Visit TPCKL.com for more information. Like us on our social media account Facebook.com/tpckualalumpur; Instagram.com/tpc_kl; Twitter.com/@officialtpckl; WhatsApp +60192636548 - TPC Kuala Lumpur to gain insights on our latest happenings.