Governance
Sustainability is guided at the highest levels of decision-making.
Sustainability is a cross-cutting across functions and business areas; hence our strategic direction is guided by the Board of Directors, with the Group Managing Director taking an executive role for effective and efficient implementation. This contributes towards positive sustainability performance year-on-year. Our strategic direction is driven via collaboration across Corporate Sustainability, Strategy, Risk, Procurement, Human Resources, Corporate Communications, Marketing & Sales, Development Services and Business Units across the company.
Board of directors
Ensures strategic alignment of economic, environmental, safety and health, social and governance with stakeholders' expectations and business priorities towards long-term value creation. The Board Charter is available on the Company's corporate website at www.simedarbyproperty.com/who-we-are/corporate-governance.
Policy instruments
The Sime Darby Property Group's commitment to sustainability and safety start with policy, which guide and set boundaries for employees whilst outlining our position for our stakeholders. These policy instruments detail thematic and sub-thematic sustainability and quality, health, safety, security and the environment areas that anchor to our governance, strategies and targets informing our sustainability direction and have been updated as at 2021. These policies can be found below.
Materiality in our sustainability context
The very basis for devising and deploying sustainability strategies is materiality, which is all about focusing our efforts on areas that matter most to our stakeholders and where we can have a positive impact, in terms of prosperity, environmental well-being and social equity. These matters are then contextualised within the context of global relevant development frameworks such as the United Nations Sustainable Development Gaols (SDGs) 2030 and key risk to the company from Climate Change and other local, regional and global environmental issues (linked or not linked to Climate Change).
Click here for Materiality list.
Sustainability context
Stakeholder considerations

Value creation

Impact on environment & people
Business considerations

Risk assestment

Impact on business
Prioritization

Most important to
stakeholders

Highest impact on
society and environment

More important to business and growth
Validation

Stakeholders'
consultation

Management
deliberations

Value creation
objectives
Review

Periodic assessment of materiality based on
changing stakeholders' expectation,
ESG indexes and business priorities.
Our sustainability tools
Over the years of embedding sustainability practices into the company, we have developed a range of engagement and tracking tools. Key amongst these tools are:
Our Bespoke Township Sustainability Index called SUSDEX (based on a mix of elements from GRI and various green rating tools), which has been applied to all planning and active townships and developments annually since 2010. The key takeaway is that with SUSDEX we engage and regularly track the core parts of our businesses' sustainability performance in line with how sustainability is defined across its three (3) key spheres - People, Planet and Prosperity.
Carbon Footprint Program and Tracking, which has also been in practice since 2010 (the original component of our Integrated Eco-Efficiency Program). Specific this subject are further explained under our Carbon section in this website;
Water and Waste tracking and optimisation engagement program (forming the second and third part of our Integrated Eco-Efficiency Program). This has been in place since 2016 with representative preliminary intensity baselines and reduction targets. In 2020, now with improved data quality and acculturation, we will be reviewing and likely restating the Water and Waste baselines. However, the long-term reduction target (as component of the Sime Darby Property 2030 Sustainability Goals) will remain at its revised 30% intensity reduction target (between 2020-2030); the same for carbon reduction and recycling increase. More elaboration is available at the Eco-Efficiency and Waste and Water pages.
The Tree-2-Tree (T2T) Calculator that has been in place since 2011. This tool tracks our total trees planted, including IUCN Red List Trees. The T2T calculator came about as a tool to track the new Tree-2-Tree (or 1:1) Replacement Policy (adopted by senior leadership in 2011). However, we are moving past tree planting tracking and community tree planting engagement events to a broader holistic and integrated Biodiversity Program. Further explanation of this tool is contained under the Biodiversity section of our website's Sustainability content.
SUSDEX overview
Version 1 was based on the Global Reporting Initiative (GRI) framework, developed to guide the best sustainable business practices. In late 2014, a fully revised framework was developed to include thematic elements from local and international green indexes and safety and crime management in addition to GRI material issues. This index is mapped to our value chain in the context of GRI 4.0 ISO, Green Building Index (GBI)Township Tool V1.01, LEED for Neighbourhood Development V4, Green Mark for Landed Houses V1.0 and Crime Prevention Through Environmental Design (CPTED) Guideline by Ministry of Housing, Malaysia. The Index has gone through further refinement, where we are now applying SUSDEX to 20+ townships and integrated developments. SUSDEX is not a replacement for Green Rating Tools; it is an internal annual assessment that measures and encourages incremental improvement in sustainability and carbon emission reduction practices. A dedicated version is also being piloted for Industrial and Logistics Development and will be applied from 2020 onwards. During the tool improvement process, two independent reviews were made by Forum for the Future and Universiti Sains Malaysia. These recommendations aided in improving the application of this tool, resulting in optimised township developments.
Rationale
Align our business with SDG no. 11 - Sustainable cities and communities.

A systematic engagement platform with Township teams, leading to a competitive environment where they aim to outperform each other in sustainability performance practices and the end products.
Applying empirical, objective and evidence-based assessment based on 86 indicators in order to optimise resources. The focus is on ensuring a sensible balance by townships between delivering the pillars of People, Planet and Prosperity during the development process and within township developments.
To aid in tracking the delivery of our 2030 Sustainability Goals.
Objective
To guide township teams to increase sustainability delivery and sustainable practices during the development process.
Development life span
Applicable for township starting from vision plan to hand-over.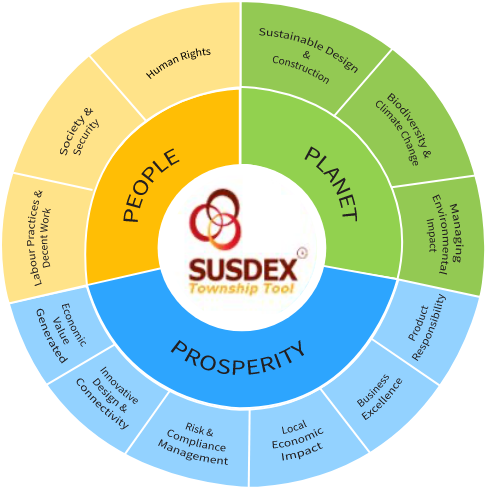 Framework
Based on GRI, GBI, LEED, Greenmark & CPTED
3 spheres, 12 categories, 37 categories, 86 indicators.
Breakdown:

Prosperity – 33 indicators
Planet – 26 indicators
People – 31 indicators
Out of 100% weightage:
70% from documentation review
30% from calibration site visit
OD/MD ratings
50% – 65%: SUSDEX-rated
65 – 75%: Silver-rated
75% - 85%: Gold-rated
85%: Platinum-rated
ND ratings
50% – 65%: provisional SUSDEX-rated
65 – 75%: provisional Silver-rated
75% - 85%: provisional Gold-rated
85%: provisional Platinum-rated
Note: OD/MD = Ongoing or near matured township developments, ND = New planning townships
Reference to other source documents
Overview
Engagement with customers, consultants, authorities, vendors, industry bodies and the general public about sustainability and the need for business to embed sustainability (not just green) into the business value chain and the products it delivers is an essential activity undertaken towards encouraging the sensible, balanced use natural and physical resources within the economy and the society that we are here to serve.
Objectives
To build understanding amongst a diverse range of stakeholders of the need for society to be able to live within environmental, ecological and socio-economic boundaries.
To ensure optimum communication, empowerment and delegation of sustainability implementation in business, at home or in the community.
Method/Approach
The approach and methods vary depending upon the objective and audience and range from internal briefings/training, vendor/authority/industry seminars, briefings and conferences, through digital means and more.

Once understanding about the need for sustainability is achieved, we believe it needs to then be taken to heart; however, this holds little value unless execution occurs as per the graphic below.
Sustainability into practice

Key sustainability partners
SDG 17 promotes partnerships to deliver the SDG's 2030. Sime Darby Property is a property developer, asset manager and hospitality and leisure operator. We pursue synergistic partnerships for the mutual benefits and delivery of the SDG's. Below is a list of key sustainability-related partners who we are presently working with or have worked with.
Yayasan Sime Darby (various)
UNICEF Malaysia (inclusive playground project)
Tropical Rainforest Conservation & Research Centre (TRCRC) (biodiversity)
TNBX (residential PV)
Islamic Relief Malaysia (B40 CSR)
Kloth Malaysia Sdn Bhd & Lifeline Clothing Malaysia Sdn Bhd (fabric recycling)
Biji Biji Malaysia (community recycling and upcycling)
Kechara Soup Kitchen & The Lost Food Project (Edible Leftover Food to Charity Programme)
Malaysian Mental Health Association (MMHA) and Mental Illness Awareness and Support Association (MIASA) (Great Minds Campaign)
Volunteer hours by running with autistic children at Bandar Bukit Raja lake, with The National Autism Society of Malaysia (NASOM)
Construction Research Institute of Malaysia, CIDB (CREAM) (Sime Darby Property D3 Sustainable Homes)
Building Sector Energy Efficiency Project (BSEEP) (Incorporating energy-efficient design into residential products)
KYS Education Group (KYS International School at the KL East integrated development)
Our sustainability context (Global/Local)
Based on our 2019 assessment, we identified the following material matters clustered into People, Planet, Prosperity and Governance.
Materiality by macro category


People



Planet



Prosperity


Governance
(Contribute to a better society)
Material matters
Diversity & Inclusion
Safety and Health
Culture
Community Adoption
Reskilling
Non-discrimination
Equal epportunities
Conducive working environment
Community welfare and social responsibility
Our response
RM1,140,276.50 invested in reskilling
19,230 training hours
412 graduate trainees trained between 2015-2018
Zero work-related fatalities for the 3rd consecutive year
Women in workforce 42%, Women on board 22%
1,386 volunteer hours by employees
Established first purpose-build Community Urban Farm (Elmina Valley, City of Elmina)
Staff nursing room developed for nursing mothers
(Manage sustainability performance with integrity and respect)
Material matters
Policy support
Grievance mechanism
Anti-corruption and integrity
Data security
Costs of non-compliance
Reputational damage
Business disruptions
Poor productivity and performance
Our response
3 key policies (Quality, ESH and Energy Management)
1 Code of Business Conduct (COBC) enable sustainability performance related to environmental and social
Whistle Blower policy
No gift policy
(Optimise environmental performance)
Material matters
Climate change action
Biodiversity conservation
Connection to nature
Cost of non-compliance to environmental guidelines
Carbon footprint from operations
Energy efficiency, renewables and low carbon lifestyle
Our response
Planted 19,520 IUCN Tress (2011-2019)
MoU with local biodiversity NGO for operation of Elmina Rainforest Knowledge Centre and IUNC Native Trees Nursery
92,560 total trees planted (2011-2019)
Overall, carbon emissions intensity reduction 42.5% against 2016
1 new property certified with BCA GreenMark (The Ridge, KL East)
1 new property certified with GBI Gold (Cantara Residences, Ara Damansara)
(Deliver sustainable development)
Material matters
Product quality
Inclusive design
Affordability
Security
Supply chain
Defects rate
High costs products
Unsustainable infrastructure
Supply chain inefficiencies, governance issues
Environmental impact
Our response
2,888 statutory units of affordable housing for lower income community (priced from RM200-270k) under construction and/or due for completion in 2019/2020.
Inspection average defects:

Structural (25%) 2 defects
Architectural (75%) 1 defects
Pre-CPC 14 defects

99% of local contractors and vendors with RM1,807.9 bil contract value.
Sime Darby Property SDG mapping

Click on the icons to view examples of our initiatives.